WatchGuard Firebox T10 Wireless

Protect Where You Connect

Sorry, this unit has been discontinued and is no longer available for purchase, replace by Firebox T15, T15-W, T20, T20-W, T40, T40-W. You can also purchase available renewals below. End of Sale (EOS): 01 Apr 2020. End of Life (EOL) for the Firebox T10-W is 31 Dec 2022 - you will not be able receive support after this date even with a 1 Year contract.
WatchGuard Firebox T Series Overview:
Rethink the Perimeter:
Ideal for small office/branch office and small retail environments, the Firebox T10, T30 and T50 create a secure network perimeter in remote locations that do not have adequate security protection in place today. Comprehensive Unified Threat Management (UTM) safeguards intellectual property and protects personal data, credit card numbers, and other critical assets from exposure and theft.
The Benefits of UTM:
An all-in-one network security solution integrates complete protection. All security capabilities work together for a comprehensive approach to network protection with a single console for reporting.
Features:
Best-of-Breed Security:
Application-layer content inspection recognizes and blocks threats that stateful packet firewalls cannot detect.
Powerful subscription-based security services boost protection in critical attack areas for multiple layers of defense. By partnering with leading technology providers, WatchGuard is able to integrate best-of-breed security components into one Unified Threat Management platform for stronger security at big cost savings.

APT Blocker uses a cloud-based sandbox with full system emulation to detect and block advanced malware and zero day attacks.
Application Control keeps unproductive, inappropriate, and dangerous applications off-limits.
Intrusion Prevention Service (IPS ) delivers in-line protection from malicious exploits, including buffer overflows, SQL injections, and cross-site scripting attacks.
WebBlocker controls access to sites that host objectionable material or pose network security risks.
Gateway AntiVirus (GAV) scans traffic on all major protocols to stop threats.
spamBlocker delivers continuous protection from unwanted and dangerous email.
Reputation Enabled Defense ensures faster, safer web surfing with cloud-based look-up.
Data Loss Prevention (DLP) automatically inspects data in motion for corporate policy violations.

Multiple VPN choices (IPSec, SSL, L2TP) for secure remote access include support for Android and Apple iOS devices.
Easy to Manage:
Interactive, real-time monitoring & reporting, at no additional charge, give an unprecedented view into network security activity so you can take immediate preventive or corrective actions.
WatchGuard Dimension™, a public and private cloud-ready visibility solution, instantly turns raw data into security intelligence.
RapidDeploy technology enables quick, secure configuration at remote locations without technical staff on-site.
Intuitive management console centrally manages all security functions.
Drag-and-drop Branch Office VPN setup - three clicks and your remote office is connected.
Choose Built-in Wireless:
Wireless models (those with -W at the end of their model number) include optional dual-band 802.11a/b/g/n/ac technology for much more responsive wireless network connection and expanded range. 2.4 GHz or less crowded 5 GHz band.
Wireless guest services segment the Internet for customers/guests.
Options & Upgrades:
WatchGuard Security Services
WatchGuard offers the most comprehensive portfolio of network security services, from traditional IPS, GAV, application control, spam blocking, and web filtering to more advanced services for protecting against advanced malware, ransomware, and the loss of sensitive data. WatchGuard also offers a full suite of network visibility and management services.
Fundamental Security Services
Advanced Security Services

APT Blocker - Advanced Malware Protection
APT Blocker uses an awardwinning next-gen sandbox to detect and stop the most sophisticated attacks including ransomware, zero day threats and other advanced malware.

Data Loss Prevention
This service prevents accidental or malicious data loss by scanning text and common file types to detect sensitive information attempting to leave the network.

Access Portal
Access Portal provides central location for access to cloud-hosted applications, and secure, clientless access to internal resources with RDP and SSH.

Threat Detection and Response
Correlate network and endpoint security events with enterprise-grade threat intelligence to detect, prioritize and enable immediate action to stop malware attacks. Improve visibility by evolving your existing security model to extend past prevention, to now include correlation, detection and response.

DNSWatch
Reduce malware infections by detecting and blocking malicious DNS requests, redirecting users to a safe page with information to reinforce security best practices.

Dimension Command
Dimension translates data collected from all appliances across your network into actionable network and threat intelligence. Dimension Command gives you the power to take action to mitigate those threats instantly, from one central console.
One Appliance, One Package, Total Security
Simplicity is our mission at WatchGuard and that mission extends beyond how the product is built to how it is packaged. While all of our services are offered à la carte, we have worked to develop two packages that simplify the decision-making process. The Total and Basic Security Suite packages are available on our Firebox T and M Series appliances, as well as our Firebox Cloud and FireboxV virtual models.
The Basic Security Suite includes all of the traditional network security services typical to a UTM appliance: IPS, GAV, URL filtering, application control, spam blocking and reputation lookup. It also includes our centralized management and network visibility capabilities, as well as, our standard 24x7 support.
The Total Security Suite includes all services offered with the Basic Security Suite plus advanced malware protection, data loss protection, enhanced network visibility capabilities, a secure access portal, and the ability to take action against threats right from Dimension, our network visibility platform.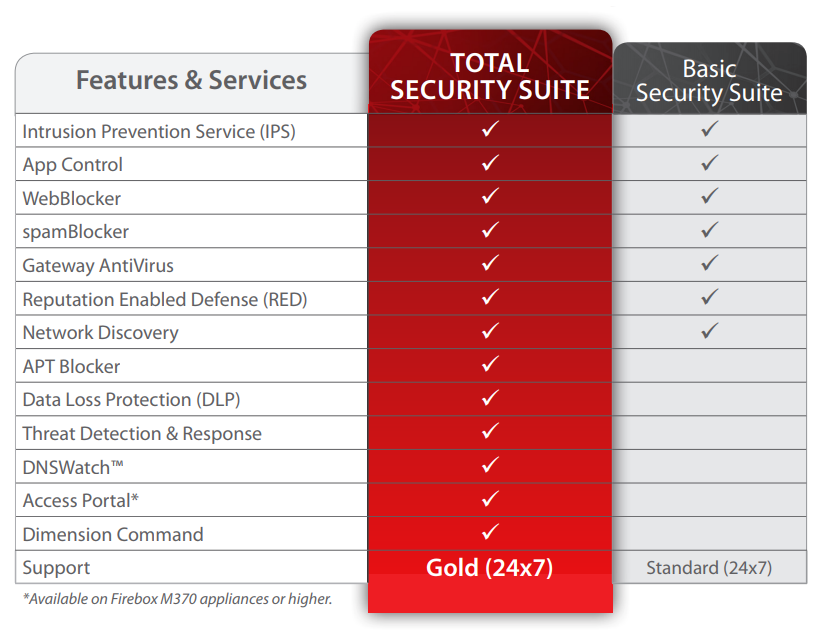 Pricing Notes:
All prices displayed are Ex-VAT. 20% VAT is added during the checkout process.
Pricing and product availability subject to change without notice.
WatchGuard Products
WatchGuard Total Security Software Suite Renewal/Upgrade
Total Security Software Suites include Gold Support, Basic Security Suite, APT Blocker, Data Loss Prevention, Dimension Command, Access Portal, DNSWatch, and Threat Detection & Response.
Total Security Suite Renewal/Upgrade 1-Year for Firebox T10-W
WatchGuard Basic Security Software Suite Renewal/Upgrade
Basic Security Software Suites include Standard Support (24x7), Application Control, WebBlocker, spamBlocker, Gateway Antivirus, Intrusion Prevention Service, Reputation Enabled Defense, and Network Discovery.
Basic Security Suite Renewal/Upgrade 1-Year for Firebox T10-W
WatchGuard Subscription for Firebox T10 Models
1 Year APT Blocker for Firebox T10 Models
1 Year WebBlocker for Firebox T10 Models
1 Year Gateway AntiVirus for Firebox T10 Models
1 Year spamBlocker for Firebox T10 Models
1 Year Intrusion Prevention Service for Firebox T10 Models
1 Year Reputation Enabled Defense for Firebox T10 Models
1 Year Application Control for Firebox T10 Models
1 Year Data Loss Prevention for Firebox T10 Models
WatchGuard Remote Installation Service
#WG001101
Our Price: £537.72
Inc. VAT: £645.26
Standard Support Services
Standard Support includes 24x7 support with unlimited incidents per year, 4 hour critical/high, 8 hour medium, 24 hour low targeted response times, advanced hardware replacement and software updates and patches.
1 Year Standard Support Renewal for Firebox T10-W
Firebox T10-W Series Accessories
Power Adapter for WatchGuard Firebox T10 and T15 models (WW)
#WG8581
Our Price: £37.28
Inc. VAT: £44.74