WatchGuard Firebox M300 Firewall

Ideal for small business and branch office deployments

Sorry, this unit has been discontinued and is no longer available for purchase, replace by Firebox M270, M370, M470, M570. If you currently own this Model, please click here to participate in the WatchGuard Trade-Up Program! You can also purchase available renewals below. End of Sale (EOS): 01 Apr 2020. End of Life (EOL) for the Firebox-M300 is 31 Dec 2022 - you will not be able receive support after this date even with a 1 Year contract.
WatchGuard Firebox M200 & M300 Overview:
Because smaller companies are generally less protected and easier to break into, small business has become the new big target for cyber attacks. The Firebox M200 and M300 firewalls are specifically engineered to defend all types of small businesses against attacks that are no less fierce than those targeting larger organizations.
Firebox M200 and M300 Next-Generation Firewall (NGFW) and Unified Threat Management (UTM) solutions are up to 218 percent faster than competing products with all security layers turned on, and up to 385 percent faster performing HTTPS inspection, ensuring businesses never have to compromise network security for performance.
Comprehensive Protection - Best-of-breed security services boost protection in critical attack areas, including gateway AV, URL and web content filtering, intrusion prevention, app control, and spam blocking.
Real-time Visibility - A suite of big-data style visibility and reporting tools are included with your Support contract. Use the Policy Map dashboard to quickly find active and misconfigured policies and drill down as needed.
Layers of Defense - WatchGuard offers eight security subscriptions for the M200 and M300, so businesses can build up protection where they need it most. Subscriptions can be purchased individually or bundled together for even greater savings.
Outstanding Performance - Up to 4 Gbps firewall throughput. Turn on optional security services and still see up to 800 Mbps throughput.
3 Ways to Manage Your Appliance - You have the power to choose how you manage your WatchGuard appliance, including WatchGuard System Manager, the command line interface, and a web UI for access from anywhere, anytime.
Maximum Network Uptime - High availability capabilities - active/active and active/passive - ensure your network is always up and running. Buy two M200s or M300s for a high availability pair and receive 50% off the cost of the second device.
VPN Setup in Seconds - Nothing could be easier than our drag-and-drop Branch Office VPN setup - three clicks and your remote office is connected.
Block Advanced Persistent Threats - Subscription-based APT Blocker takes over where AV protection leaves off, going after zero day threats for which there are no signatures.
Data Loss Prevention - Prevent the loss of confidential data in motion with this subscription-based service. Includes built-in library of over 200 rules that allows IT to quickly create and update corporate DLP policies.
Features:
Highest UTM Performance in the Industry:
Firewall throughput of up to 4 Gbps to keep traffic moving.
Best UTM throughput in its class - up to 800 Mbps - even with strong security enabled.
No need to compromise protection for strong performance or vice versa. Multi-layered, interlocking security protects the network while throughput remains high.
8 Gigabit Ethernet ports support high-speed LAN backbone infrastructures & gigabit WAN connections.
Best-of-Breed Security:
Application-layer content inspection recognizes & blocks threats that stateful packet firewalls cannot detect.
Powerful subscription-based security services boost protection in critical attack areas for multiple layers of defense. By partnering with leading technology providers, WatchGuard is able to integrate best-of-breed security components into one platform for stronger security at big cost savings.

APT Blocker is a cloud-based service that uses a combination of sandboxing and full system emulation to detect and block highly sophisticated Advanced Persistent Threats (APTs).
Application Control keeps unproductive, inappropriate, and dangerous applications off-limits.
Intrusion Prevention Service (IPS) delivers in-line protection from malicious exploits, including buffer overflows, SQL injections, and cross-site scripting attacks.
WebBlocker controls access to sites that host objectionable material or pose network security risks.
Gateway AntiVirus (GAV) scans traffic on all major protocols to stop threats.
spamBlocker delivers continuous protection from unwanted and dangerous email.
Reputation Enabled Defense ensures faster, safer web surfing with cloud-based reputation look-up.
Data Loss Prevention automatically inspects data in motion for corporate policy violations.

Advanced networking features, such as dynamic routing and link aggregation, allow you to add security without needing to change existing network infrastructure.
Multiple VPN choices (IPSec, SSL, L2TP) for secure remote access include support for Android and Apple iOS devices.
Easy To Manage:
WatchGuard Dimension™, a public and private cloud-ready visibility solution, instantly turns raw data into security intelligence.
Interactive, real-time monitoring and reporting - at no additional charge - give an unprecedented view into network security activity so you can take immediate preventive or corrective actions.
RapidDeploy™ enables quick, secure configuration at remote locations without technical staff.
Intuitive management console centrally manages all security functions.
WAN and VPN failover provide redundancy for increased reliability.
Extend best-in-class UTM security to the WLAN by adding WatchGuard's Wireless Access Points.
Specifications:

WatchGuard Firebox M200 & M300 Detailed Specs
Models:

Firebox M200

Firebox M300

Performance
Firewall Throughput
3.2 Gbps
4.0 Gbps
VPN Throughput
1.2 Gbps
2.0 Gbps
AV Throughput
620 Mbps
1.2 Gbps
IPS Throughput
1.4 Gbps
2.5 Gbps
UTM Throughput
515 Mbps
800 Mbps
Interfaces 10/100/1000
8
8
I/O Interfaces
1 SRL/2 USB
1 SRL/2 USB
Concurrent connections (bi-directional)
1,700,000
3,300,000
New connections per second
20,000
48,000
VLANs
100
200
WSM licenses (incl)
4
4
Authenticated users limit
Unrestricted
Unrestricted
VPN Tunnels
Branch Office VPN
50
75
Mobile VPN IPSec
75
100
Mobile VPN SSL/L2TP
75
100
Security
Firewall
Stateful packet inspection, deep packet inspection, proxy firewall
Application Proxies
HTTP, HTTPS, SMTP, FTP, DNS, TCP, POP3
Threat Protection
DoS attacks, fragmented & malformed packets, blended threats & more
VoIP
H.323, SIP, call setup and session security
Filtering options
Browser Safe Search, YouTube for Schools
Security Subscriptions
Application Control, IPS, WebBlocker, GAV, Data Loss Prevention, spamBlocker, Reputation Enabled Defense, APT Blocker
VPN & Authentication
Encryption
DES, 3DES, AES 128-, 192-, 256-bit
IPSec
SHA-1, SHA-2, MD5, IKE pre-shared key, 3rd party cert
Single Sign-On
Supports Windows, Mac OS X, mobile operating systems
Authentication
RADIUS, LDAP, Windows Active Directory, VASCO, RSA SecurID, internal database
Management
Logging and notifications
WatchGuard, Syslog, SNMP v2/v3
User interfaces
Centralized console (WSM), Web UI, scriptable CLI
Reporting
WatchGuard Dimension includes 70 pre-defined reports, executive summary and visibility tools
Certifications
Security
Pending: ICSA Firewall, ICSA IPSec VPN, CC EAL4+, FIPS 140-2
Safety
NRTL/C, CB
Network
IPv6 Ready Gold (routing)
Hazardous substance control
WEEE, RoHS, REACH
Networking
Routing
Static, Dynamic (BGP4, OSPF, RIP v1/v2), Policy-based VPN
High Availability
Active/passive, active/active with load balancing
QoS
8 priority queues, DiffServ, modified strict queuing
IP Address Assignment
Static, DHCP (server, client, relay), PPPoE, DynDNS
NAT
Static, dynamic, 1:1, IPSec traversal, policy-based, Virtual IP for server load balancing
Link aggregation
802.3ad dynamic, static, active/backup
Other Features
Port Independence, Multi-WAN failover and load balancing, server load balancing, transparent/drop-in mode
Hardware
Product Dimensions
17" x 1.75" x 12.08" (431 x 44 x 307 mm)
Shipping Dimensions
18" x 21" x 5.25" (45.7 x 53.3 x 13.3 cm)
Weight
17 lb (7.7 kg)
AC Power
100-240 VAC Autosensing
Power Consumption
U.S. 75 Watts (max), 256 BTU/hr (max)
Rack Mountable
1U rack mount kit included
Environment
Operating
Storage
Temperature
32° F to 104° F 0° C to 40° C
-40° F to 158° F -40° C to 70° C
Relative Humidity
10% to 85% non-condensing
10% to 95% non-condensing
Altitude
0 to 9,843 ft at 95° F (3,000 m at 35° C)
0 to 15,000 ft at 95° F (4,570 m at 35° C)
MTBF
51,644 hours @ 77° F (25° C)
Options & Upgrades:
WatchGuard Security Services
WatchGuard offers the most comprehensive portfolio of network security services, from traditional IPS, GAV, application control, spam blocking, and web filtering to more advanced services for protecting against advanced malware, ransomware, and the loss of sensitive data. WatchGuard also offers a full suite of network visibility and management services.
Fundamental Security Services
Advanced Security Services

APT Blocker - Advanced Malware Protection
APT Blocker uses an awardwinning next-gen sandbox to detect and stop the most sophisticated attacks including ransomware, zero day threats and other advanced malware.

Data Loss Prevention
This service prevents accidental or malicious data loss by scanning text and common file types to detect sensitive information attempting to leave the network.

Access Portal
Access Portal provides central location for access to cloud-hosted applications, and secure, clientless access to internal resources with RDP and SSH.

Threat Detection and Response
Correlate network and endpoint security events with enterprise-grade threat intelligence to detect, prioritize and enable immediate action to stop malware attacks. Improve visibility by evolving your existing security model to extend past prevention, to now include correlation, detection and response.

DNSWatch
Reduce malware infections by detecting and blocking malicious DNS requests, redirecting users to a safe page with information to reinforce security best practices.

Dimension Command
Dimension translates data collected from all appliances across your network into actionable network and threat intelligence. Dimension Command gives you the power to take action to mitigate those threats instantly, from one central console.
One Appliance, One Package, Total Security
Simplicity is our mission at WatchGuard and that mission extends beyond how the product is built to how it is packaged. While all of our services are offered à la carte, we have worked to develop two packages that simplify the decision-making process. The Total and Basic Security Suite packages are available on our Firebox T and M Series appliances, as well as our Firebox Cloud and FireboxV virtual models.
The Basic Security Suite includes all of the traditional network security services typical to a UTM appliance: IPS, GAV, URL filtering, application control, spam blocking and reputation lookup. It also includes our centralized management and network visibility capabilities, as well as, our standard 24x7 support.
The Total Security Suite includes all services offered with the Basic Security Suite plus advanced malware protection, data loss protection, enhanced network visibility capabilities, a secure access portal, and the ability to take action against threats right from Dimension, our network visibility platform.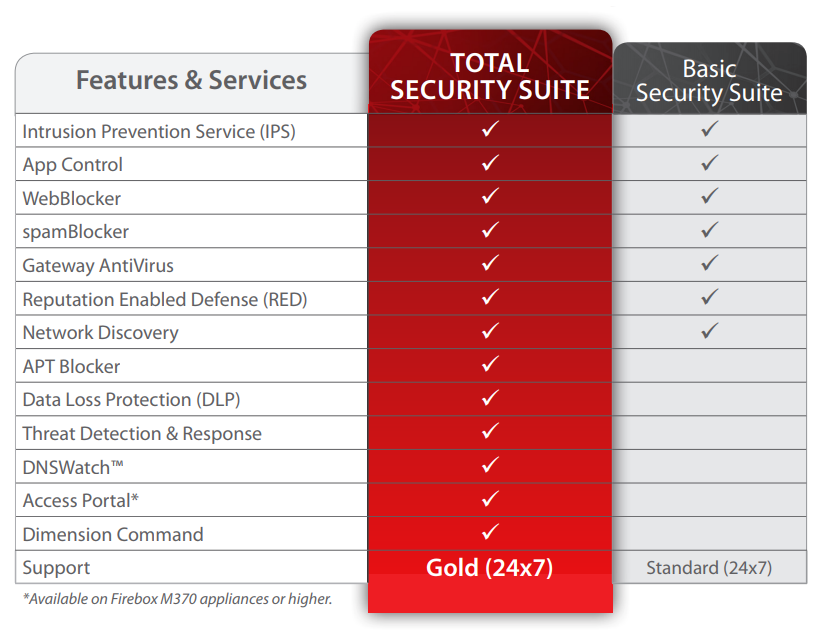 Pricing Notes:
All prices displayed are Ex-VAT. 20% VAT is added during the checkout process.
Pricing and product availability subject to change without notice.