WatchGuard Wireless Intrusion Prevention System (WIPS)

Best WIPS in the Industry

Cyber criminals have abundant opportunities to steal personal data, eavesdrop, and spread malware over Wi-Fi. How hard is it for a criminal to attack in your airspace? Right now there are over 300,000 videos on YouTube explaining how to hack Wi-Fi users with simple-to-use but highly powerful tools easily found online. From man-in-the-middle and denial-of-service attacks to unauthorised devices and rogue APs, you've got your hands full.
WatchGuard's cloud-managed access points have built-in WIPS to help ensure you have the protection you need. Using patented Marker Packet technology, WatchGuard WIPS defends your airspace 24/7 from unauthorised devices, rogue APs, and malicious attacks - and with close to zero false positives. With WatchGuard cloud-managed APs running WIPS, IT pros can deliver the high performance wireless connectivity their users demand, without compromising on security.
Download Feature Brief
---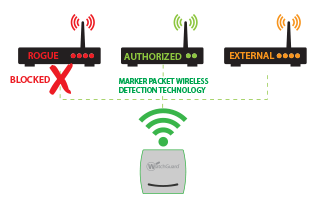 What Makes WatchGuard WIPS Unique?
WatchGuard WIPS has patented Marker Packet technology that reliably detects and classifies all access points and connected devices, such as smartphones and tablets, on or around your airspace as authorised, external, or rogue. This advanced rogue detection process, missing in other WIPS products on the market, ensures that ONLY unacceptable connections get shut down immediately, without illegally disrupting neighboring Wi-Fi networks.
Flexible WIPS Deployment Options
Each WatchGuard AP can be installed as a dedicated WIPS sensor, which means that instead of delivering Wi-Fi traffic to users, it is 100% dedicated to scanning the air and preventing Wi-Fi attacks. You also have the option to install in shared AP/WIPS mode, where an AP spends a portion of its time both delivering traffic and fending off attacks. WatchGuard APs can even be installed as dedicated WIPS sensors in an environment with competing access points, delivering the best WIPS security on the market on top of an existing Wi-Fi network.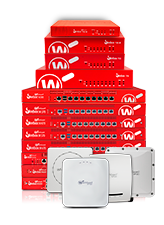 Boost Your Wi-Fi Defenses
Easily step up to even greater protection by deploying our APs in a WatchGuard Firebox-protected network. This extends the Firebox's best-in-class UTM defenses, like application control and zero day malware protection, to your WLAN.
---
How It Works
Using a WatchGuard cloud-managed access point as a WIPS sensor, you get industry-leading technologies that protect your wireless networks from a host of malicious activities, including rogue access points, evil twins, and denial-of-service attacks.
Defends Against Rogue APs
Unauthorised access points on your network
WatchGuard WIPS continuously scans all other access points in the area and classifies them as authorised, external, or rogue.
Authorised – Known access points that are connected to your network
External – Nearby access points that are not connected to your network
Rogue – Unknown access points that are connected to your network
Using the patented, state-of-the-art Marker Packet wireless detection technology, WatchGuard WIPS rapidly and reliably differentiates between nearby external access points and rogue access points. If a rogue access point is detected, all incoming connections to that access point are instantly blocked.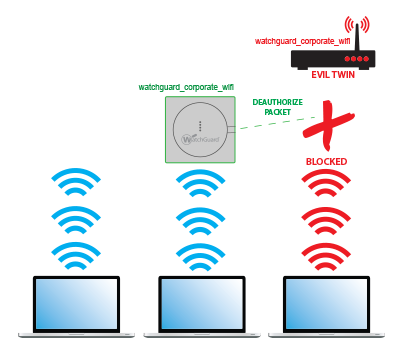 Prevents Evil Twins
Access points pretending to be your access points
WatchGuard WIPS keeps record of all clients connecting to your authorised access points by tracking each hardware address and storing them in a database. If a known client attempts to connect to a malicious access point, the connection is instantly blocked using a de-authentication packet.
Shuts Down Denial-of-Service Attacks
Deliberate effort to cut off your network
Malicious clients can use de-authentication packets to purposely block connections to your network. WIPS shuts these denial-of-service attacks down by continuously looking for abnormally high amounts of de-authentication packets in the airway. The source is then identified, and all further broadcasting is blocked using advanced wireless disruption technologies.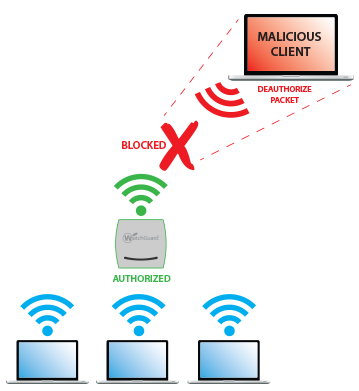 ---

WatchGuard Secure, Cloud-Managed Wi-Fi
WatchGuard doesn't just offer Wi-Fi connectivity, we offer patented security, increased productivity, and improved customer satisfaction. When you deploy a WatchGuard access point that has WatchGuard Wi-Fi Cloud enabled, you unlock invaluable tools to take your business to the next level with industry-leading wireless security, engaging captive portals, location-based analytics engine, and centralized management.
Miercom verifies that WatchGuard is the only company to automatically detect and prevent the six known Wi-Fi threat categories.