Powering Remote Work

Make working from home safe and easy

Cloud services (WatchGuard Cloud, AuthPoint, TDR and DNSWatch/DNSWatchGO) are operated out of AWS and are not impacted by COVID-19. WatchGuard's service operations and engineering teams remain at 100% capacity and are not encumbered by the COVID-19 safety measures.
In an effort to prevent the spread of COVID-19 within the workforce, more companies are allowing employees to work from home. While companies save on physical accommodations and employees on gas and commute time, there are some inherent downsides - the threat of a cyber breach from an insecure connection, unreliable Wi-Fi, potential data-loss and more!

Shop our top WatchGuard solutions to make working from home safe and easy.
WatchGuard Resources to Aid with Remote Worker Security
WatchGuard continues to serve our customers and partners, while supporting the needs of the communities in which we operate. Steps WatchGuard has taken to ensure business continuity include:
Social distancing: Mandated work-from-home has been implemented for employees who are based in our offices in Seattle (US and WatchGuard headquarters), China, Singapore, and Italy.
Travel restrictions: Following the CDC travel guidelines, WatchGuard has ceased all non-essential business travel, including travel in/out of Level 2 or Level 3 risk countries.
Production: WatchGuard confirmed supply inventory will meet forecasted needs and we continue to work with our vendors to ensure the long-term availability of all of our products.
Supply chain: We maintain daily contact with our manufacturers, freight forwarders and other points in the supply chain to assess, manage, and mitigate issues.
Service availability: We are working to ensure that all Cloud services, including WatchGuard Cloud, AuthPoint, Threat Detection and Response, Wi-Fi Cloud and DNSWatch/DNSWatchGO remain at 100% capacity during this time of increased demand.
Access to Support: Our Customer Support team remains fully operational. The team has a work-from-home/business continuity response plan for instances such as this and customers will not notice any difference in service and support.
Order administration: Our sales and order processing functions are operating as usual with all personnel working remotely and providing 100% coverage for all accounts and order processing.
Secure connectivity to corporate headquarters is essential if your remote employees are going to achieve maximum productivity. Virtual Private Networks (VPNs) add a layer of security to private and public networks, allowing individuals and organizations to send and receive data safely over the Internet. A VPN creates secure connections between computers or networks in different locations back to the corporate network. Organizations rely on a VPN to offer secure connectivity to remote locations and users. Operating at the network layer, a client-based VPN provides users access to the entire network.
Three types of client-based VPN connectivity offered:
IPSec VPN client - A full-featured VPN client, powered by NCP, compatible with all versions of Fireware. Supports all WatchGuard Mobile VPNs with IPSec configuration settings.
Mobile VPN with IKEv2 - Mobile VPN with IKEv2 uses IPSec to provide superior encryption and authentication. Supports connections from a wide range of operating systems.
Mobile VPN with SSL - Mobile VPN with SSL uses Transport Layer Security (TLS) to secure connections between a remote computer and your protected network.
---

While many VPN options are available on the market, not all offer the same level of protection and flexibility. The WatchGuard IPSec VPN Client is a premium service that gives both the organization and its remote employees a higher level of protection and a better VPN experience. Compatible with Windows and Mac OS X, the IPSec VPN is the ideal solution for employees who frequently work remotely or require remote access to sensitive resources.
Feature & Benefits:
Two-Factor Authentication - Fully compatible with WatchGuard AuthPoint, the IPSec VPN client adds another layer of security by requiring two types of credentials without the need for specialized hardware. Integration with other leading MFA vendors is also supported.
Always On - VPN client will reconnect automatically should a connection drop. Even when the user's device goes to sleep, it will reconnect to the VPN once it's back on.
Windows Pre-Logon - Users can log on to a Windows domain even if they are not in the network. For easy access, Windows and VPN login credentials can be configured to be the same.
Seamless Roaming - Users can change from one Internet communication medium (LAN/WLAN/3G/4G) to another without dropping the VPN connection. For example, connect with Wi-Fi at a coffee shop, then switch to an Ethernet connection at work, then switch to your Wi-Fi at home. The VPN connection does not drop.
Integrated Personal Firewall - Our Friendly Net Detection feature recognizes whether a network is secure or not and then applies the appropriate firewall settings. This is especially useful in businesses like retail stores and mall kiosks that want to offer their customers a specific application.
Keep Criminals Outside Your Network with AuthPoint
Our unique multi-factor authentication (MFA) solution not only helps to reduce the likelihood of network disruptions and data breaches arising from lost or stolen credentials, but we deliver this important capability entirely from the Cloud for easy set-up and management. AuthPoint goes beyond traditional 2-factor authentication (2FA) by considering innovative ways to positively identify users, and our large ecosystem of 3rd party integrations means that you can use MFA to protect access to the network, VPNs, and Cloud applications. Even non-technical users find the AuthPoint mobile app easy and convenient to use!
Ensure Every Point of Access Is Protected
WatchGuard's technology ecosystem includes an extensive lineup of documented 3rd party integrations with AuthPoint, including the most popular cloud applications, web services, VPNs and networks. Ensure every point of access is protected with AuthPoint by leveraging its powerful technology ecosystem.
AuthPoint/DNSWatchGO Activation for End Users
WatchGuard Passport is a bundle of user-focused security services designed to block phishing attempts, enforce web policy, and authenticate people anywhere in the world. For a limited time, WatchGuard is offering the DNS filtering and multi-factor authentication components of Passport - DNSWatchGO and AuthPoint - free for 120 days for up to 250 users.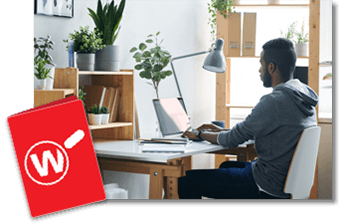 Resources
---
Need help? Chat with an industry expert right now!
Please fill out the form below or call us at 020 3958 0663.
Mailing Address:
GuardSite.co.uk
A division of Virtual Graffiti Ltd
2nd Floor, 201 Haverstock Hill.
Belsize Park
London, NW3 4QG
United Kingdom
Our team is here to help you! We are available from 8:30am GMT - 6pm GMT and attempt to respond to all inquiries within 1 business day.
Please Note: Technical support is provided by the manufacturer. If you have product support related questions, please contact the manufacturer directly.