WatchGuard ThreatSync

Actionable Insight Through Correlation
Accelerate Threat Detection & Response With XDR
The cybersecurity industry has long been operating in siloes where security tools don't communicate with each other. Security teams are long overdue for a solution that provides a comprehensive security posture. Now there is ThreatSync, WatchGuard's XDR solution, equipping modern security teams with a centralized incident intelligence tool to consolidate security and provide extended detection and response.
Proactive Defense for Evoloving Cyber Threats
The increasing complexity of threats and the proliferation of security technologies can make it difficult for organizations to view their security posture comprehensively. At the same time, it is also challenging for overwhelmed security teams to combat advanced threats with limited visibility and disconnected security tools while dealing with slow detection times and trying to respond accurately. Today's security experts need a unified security solution to identify, contain, and respond faster to emerging threats.
WatchGuard ThreatSync equips enterprises with XDR capabilities to centralize detections and orchestrate the response to threats from a single pane of glass. It simplifies cybersecurity while improving visibility and automating response actions across the organization faster, reducing risk and cost and providing higher accuracy.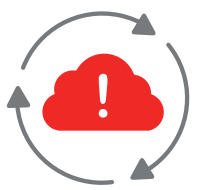 eXtend
Build your XDR strategy with tight integrations and cross-domain data telemetry from WatchGuard's latest-gen technologies. By broadening the range of data feeds from your growing security stack you have far greater visibility as well as stronger protection.
Detect
Move away from a siloed security approach and reactive tools and adopt threat intelligence detection coming from multiple sources. ThreatSync uses AI and machine learning to identify potential threats in real time across multiple domains for reduced Mean Time to Detection and swift containment of the severity and scope of threats.
Respond
Put XDR into action and respond to threats in a flash. ThreatSync enables the orchestration of automated response actions to neutralize threats across the enterprise from a single pane of glass in a simpler and faster process, reducing risk and offering higher accuracy.
WatchGuard ThreatSync puts security experts back in charge of their security stack with widely unified visibility, cross-detection, automated response to threats, and features suitable for any organization, regardless of budget, size, or complexity.
Benefits

Greater Visibility
into network and endpoint activity, helping to identify threats that might otherwise go undetected

Comprehensive Security
by unifying data and alerts into a single platform where solutions can work together to prioritize and respond to threats

Reduce Security Team Burdens
by automating the threat detection and response process and freeing up time and resources for security teams

Streamline Response Process
providing coordinated and automated responses to detected threats

No Added Costs to Access XDR
XDR is an essential tenet of modern cybersecurity that should be accessible to every business. As such, WatchGuard includes ThreatSync at no additional cost
A Comprehensive Security Platform Is the Future
XDR is an essential tenet of modern cybersecurity that should be accessible to every business. For WatchGuard, everything starts with our Unified Security Platform architecture, the cornerstone on which to build and evolve your security ecosystem. As such, WatchGuard includes ThreatSync as a cross-product capability available at no additional cost.
Key Features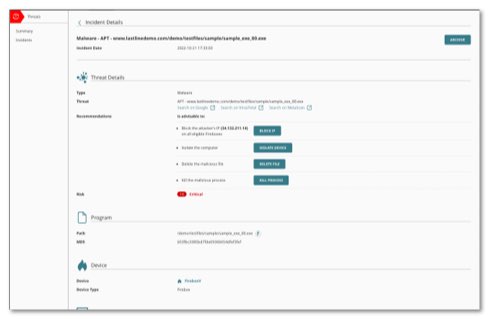 Beat the Threat Uncertainty with Unified Visibility
Dealing with imprecise threat detection? ThreatSync increases accuracy and speeds up detection by automatically unifying threat data in the whole WatchGuard security stack in a single interface. Get a complete picture of threats and the context of cross-detections from a single pane of glass without users needing to learn and use multiple consoles.
Give Your IT Team Time Back with Incident Prioritization
Too often, cybersecurity teams spend a great deal of time prioritizing risks, incidents, and threats, with the expectation that they will make sense of them quickly. Obtain scores and detect malicious scenarios that provide incident prioritization context, helping IT & SEC teams understand the threat's risk level and know exactly where to start and make the most accurate decisions faster.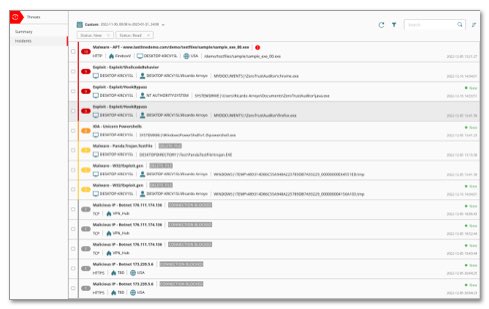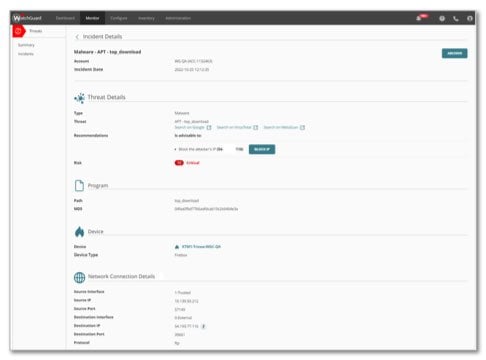 Detect Earlier for Better Protection
Eliminate the need to manually aggregate security data from different sources and reduce the burden of finding threats. Uncover threats earlier with ThreatSync, which presents a unified user experience by correlating activities monitored from cross-domain data. This reduces the MTTD and clears up the obstacles that slow down a security team. The earlier you detect, the faster you respond.
Respond Faster to Threats
When it comes to security, the chance of successfully responding to a breach is a matter of knowledge and time. Once security experts have the information they need, it is easy to respond quickly. Connect the related detections across your ecosystem with ThreatSync and enable your team to determine and automate multiple response actions to prevent threats from spreading into the whole organization.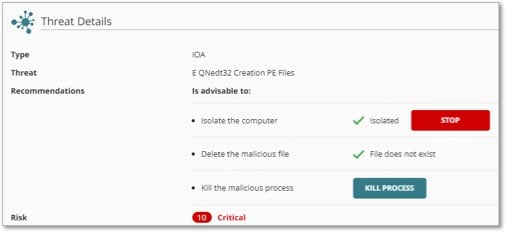 ---
Experience a Unified XDR-Based Approach
ThreatSync is part of WatchGuard's Unified Security Platform architecture, the cornerstone on which to effectively build and evolve your security environment. It's designed to simplify security visibility across an organization's entire ecosystem. This enables security professionals to be more proactive against advanced cyber threats by equipping them with a series of coordinated detection and response features.
Unified Threat Visibility
ThreatSync gathers and displays cross-detections from computers, servers, and firewalls in a single interface without admins needing to learn and use multiple consoles. This enables them to enjoy a consolidated user experience while gaining context of detections and stopping advanced threats faster to reduce security risks.
Unified Threat Detection
ThreatSync correlates operations automatically and related activities from individual security layers working in concert to alert admins of any suspicious activity. Then, it scores and detects malicious scenarios that could be indicators of compromise (IoCs), enabling MTTD reduction and swift containment of the impact, severity, and scope.
Unified Automated Response
When security experts have the information they need, it is easy to respond quickly. ThreatSync enables IT and security teams to work more efficiently since it provides the ability to schedule, automate, or run on-demand response actions to threats faster across the enterprise from a single pane of glass.
Security Orchestration
Combine security orchestration and automated response to provide an organization with a more comprehensive and cohesive security posture. ThreatSync integrates data and alerts from multiple domains, generates incident context, and streamlines the response process to enable security teams to respond more quickly and effectively to threats.