WatchGuard Panda Systems Management

The new way to manage, monitor and support IT systems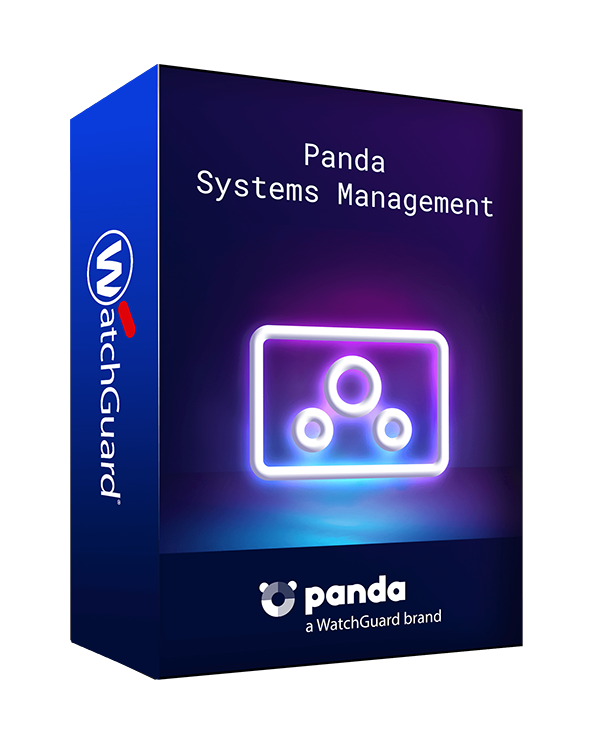 WatchGuard Products
WatchGuard Panda Systems Management - 1 Year
Panda Systems Management - 1 Year - 1 to 10 users
#WGSYS011
Our Price: £26.08
Inc. VAT: £31.30
Panda Systems Management - 1 Year - 11 to 25 users
#WGSYS021
Our Price: £24.65
Inc. VAT: £29.58
Panda Systems Management - 1 Year - 26 to 50 users
#WGSYS031
Our Price: £22.50
Inc. VAT: £27.00
Panda Systems Management - 1 Year - 51 to 100 users
#WGSYS041
Our Price: £20.72
Inc. VAT: £24.86
Panda Systems Management - 1 Year - 101 to 250 users
#WGSYS051
Our Price: £18.57
Inc. VAT: £22.28
Panda Systems Management - 1 Year - 251 to 500 users
#WGSYS061
Our Price: £16.79
Inc. VAT: £20.15
Panda Systems Management - 1 Year - 501 to 1000 users
#WGSYS071
Our Price: £14.29
Inc. VAT: £17.15
Panda Systems Management - 1 Year - 1001 to 3000 users
#WGSYS081
Our Price: £11.79
Inc. VAT: £14.15
Panda Systems Management - 1 Year - 3000+ users
#WGSYS091
Our Price: £8.93
Inc. VAT: £10.72
WatchGuard Panda Systems Management - 3 Year
Panda Systems Management - 3 Year - 1 to 10 users
#WGSYS013
Our Price: £62.51
Inc. VAT: £75.01
Panda Systems Management - 3 Year - 11 to 25 users
#WGSYS023
Our Price: £59.30
Inc. VAT: £71.16
Panda Systems Management - 3 Year - 26 to 50 users
#WGSYS033
Our Price: £54.29
Inc. VAT: £65.15
Panda Systems Management - 3 Year - 51 to 100 users
#WGSYS043
Our Price: £49.29
Inc. VAT: £59.15
Panda Systems Management - 3 Year - 101 to 250 users
#WGSYS053
Our Price: £45.01
Inc. VAT: £54.01
Panda Systems Management - 3 Year - 251 to 500 users
#WGSYS063
Our Price: £40.01
Inc. VAT: £48.01
Panda Systems Management - 3 Year - 501 to 1000 users
#WGSYS073
Our Price: £34.29
Inc. VAT: £41.15
Panda Systems Management - 3 Year - 1001 to 3000 users
#WGSYS083
Our Price: £28.22
Inc. VAT: £33.86
Panda Systems Management - 3 Year - 3000+ users
#WGSYS093
Our Price: £21.79
Inc. VAT: £26.15
Click here to jump to more pricing!

Please Note: All prices displayed are Ex-VAT. 20% VAT is added during the checkout process.
Overview:
MANAGE YOUR IT INFRASTRUCTURE SIMPLY AND PROACTIVELY WITH A RAPIDLY INTEGRATED SOLUTION
Systems Management is a hosted service for Remote Monitoring and Management (RMM) of all your organization's devices, whether they are in the office or remote. Thanks to the simplicity offered by the pre-configured settings, the learning curve is practically non-existent, and it ensures that the organization's IT infrastructure operates exactly according to plan.
Why Opt for System Management?
It frees up your IT team to concentrate on value-added projects
It resolves problems proactively
It enhances support for new technologies and encourages adoption of BYOD

Features:
100% Cloud-based solution: No additional infrastructure. Manage all devices at any time and from anywhere.
Secure access to the service: Two-factor authentication to verify identities. Encrypted communication with the server.
Management via an extremely lightweight agent for Windows, Linux, Mac, Android and iOS devices.
Agent-free management of printers and other network devices (routers, switches, etc.) via SNMP, WMware ESXi (with the vSphere client) and MS Hyper-V.
Alerts and monitoring: Monitor use of CPU, memory and hard disks, printers low on ink etc, with real-time graphs and alerts.
Make full use of our ComStore where you will find hundreds of monitors for applications such as Exchange, SQL and IIS, backup services, etc. Tools for freeing up disk space and many other options.
Rapid tasks and scripts: Create your own scripts or download them from our ComStore. You can also modify them to suit your needs and launch them.
Patch management: Automate the deployment of updates and patches for the software installed.
Software deployment: Centrally deploy software and updates.
Remote access: Task management, file transfer, registry editor, command line, event log, etc. Repair devices without interrupting users, even if they are switched off. Access to users desktops - either shared or with complete control.
Manage smartphones and tablets (MDM): Establish password policies, control over use of the device, remote connectivity settings, remote locking and data wiping.
Security certificates: FISMA, SAS70, ISO 27001 and PCI DSS.
Take Control of IT: Asset Management
Control your devices:
100% granular visibility of the devices you manage.
Stay up to date on your IT environment and changes.
Keep a check on the hardware and software installed and in use.
Stop Firefighting and Reduce Your IT Costs
Cut out repetitive tasks and phone calls; be proactive:
The real-time alerts let you identify printers low on toner, servers with little disk space and many other problem indicators.
Automate repetitive tasks.
The events logs display information for each device.
Patch management to keep all devices up-to-date.
Monitoring of mail servers, backup services, network devices, etc. to improve your company's productivity.
Keep IT Centralized and Simple
Manage your IT resources from a single web console with all the information and tools you need:
Cloud-hosted; with no additional infrastructure.
Manage all your devices no matter where they are at any time and from anywhere.
Almost non-existent learning curve.
Offer Users the Best Support Experience, No Matter Where They Are
Drastically reduce calls to support:
Monitor and deliver remote support to all devices, even if they are switched off, regardless of whether or not they have the Panda Systems Management agent installed.
Use diagnostics and non-intrusive problem resolution to increase productivity.
Evaluate productivity:
See who's done what at what time and with what device, etc.
It lets you see reductions in downtime and support time.
Identify problematic hardware/software.
Don't Lose Sight of Your Smartphones and Tablets
A single tool lets you monitor and manage all your mobile devices:
Locate stolen devices and prevent loss of data when devices are lost or stolen with password protection and remote data wiping.
Improve device security by setting standards for the passwords chosen by users.
Block non-productive features (installation of games and apps, use of cameras, movies, etc).
Centrally configure VPN and Wi-Fi settings for all devices.
Pricing Notes:
All prices displayed are Ex-VAT. 20% VAT is added during the checkout process.
Pricing and product availability subject to change without notice.
WatchGuard Products
WatchGuard Panda Systems Management - 1 Year
Panda Systems Management - 1 Year - 1 to 10 users
#WGSYS011
Our Price: £26.08
Inc. VAT: £31.30
Panda Systems Management - 1 Year - 11 to 25 users
#WGSYS021
Our Price: £24.65
Inc. VAT: £29.58
Panda Systems Management - 1 Year - 26 to 50 users
#WGSYS031
Our Price: £22.50
Inc. VAT: £27.00
Panda Systems Management - 1 Year - 51 to 100 users
#WGSYS041
Our Price: £20.72
Inc. VAT: £24.86
Panda Systems Management - 1 Year - 101 to 250 users
#WGSYS051
Our Price: £18.57
Inc. VAT: £22.28
Panda Systems Management - 1 Year - 251 to 500 users
#WGSYS061
Our Price: £16.79
Inc. VAT: £20.15
Panda Systems Management - 1 Year - 501 to 1000 users
#WGSYS071
Our Price: £14.29
Inc. VAT: £17.15
Panda Systems Management - 1 Year - 1001 to 3000 users
#WGSYS081
Our Price: £11.79
Inc. VAT: £14.15
Panda Systems Management - 1 Year - 3000+ users
#WGSYS091
Our Price: £8.93
Inc. VAT: £10.72
WatchGuard Panda Systems Management - 3 Year
Panda Systems Management - 3 Year - 1 to 10 users
#WGSYS013
Our Price: £62.51
Inc. VAT: £75.01
Panda Systems Management - 3 Year - 11 to 25 users
#WGSYS023
Our Price: £59.30
Inc. VAT: £71.16
Panda Systems Management - 3 Year - 26 to 50 users
#WGSYS033
Our Price: £54.29
Inc. VAT: £65.15
Panda Systems Management - 3 Year - 51 to 100 users
#WGSYS043
Our Price: £49.29
Inc. VAT: £59.15
Panda Systems Management - 3 Year - 101 to 250 users
#WGSYS053
Our Price: £45.01
Inc. VAT: £54.01
Panda Systems Management - 3 Year - 251 to 500 users
#WGSYS063
Our Price: £40.01
Inc. VAT: £48.01
Panda Systems Management - 3 Year - 501 to 1000 users
#WGSYS073
Our Price: £34.29
Inc. VAT: £41.15
Panda Systems Management - 3 Year - 1001 to 3000 users
#WGSYS083
Our Price: £28.22
Inc. VAT: £33.86
Panda Systems Management - 3 Year - 3000+ users
#WGSYS093
Our Price: £21.79
Inc. VAT: £26.15