WatchGuard Panda Adaptive Defense SiemFeeder on Azure

Integration with corporate SIEM systems, to add all details of everything that runs on your IT network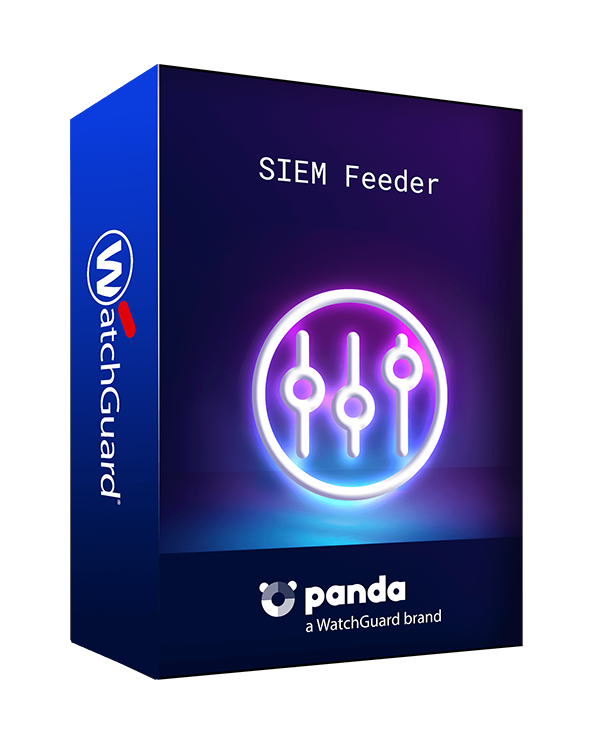 Preauthorization from Watchguard required for SiemFeeder on Azure
WatchGuard Products
WatchGuard Panda Adaptive Defense SiemFeeder on Azure - 1 Year
Panda Adaptive Defense SiemFeeder on Azure - 1 Year - 1 to 99 users
#WGSFA081
Our Price: £6.79
Inc. VAT: £8.15
Panda Adaptive Defense SiemFeeder on Azure - 1 Year - 100 to 249 users
#WGSFA011
Our Price: £5.00
Inc. VAT: £6.00
Panda Adaptive Defense SiemFeeder on Azure - 1 Year - 250 to 500 users
#WGSFA021
Our Price: £3.93
Inc. VAT: £4.72
Panda Adaptive Defense SiemFeeder on Azure - 1 Year - 501 to 1000 users
#WGSFA031
Our Price: £3.57
Inc. VAT: £4.28
Panda Adaptive Defense SiemFeeder on Azure - 1 Year - 1001 to 3000 users
#WGSFA041
Our Price: £2.86
Inc. VAT: £3.43
Panda Adaptive Defense SiemFeeder on Azure - 1 Year - 3001 to 5000 users
#WGSFA051
Our Price: £2.50
Inc. VAT: £3.00
Panda Adaptive Defense SiemFeeder on Azure - 1 Year - 5001 to 10000 users
#WGSFA061
Our Price: £2.14
Inc. VAT: £2.57
Panda Adaptive Defense SiemFeeder on Azure - 1 Year - 10000+ users
#WGSFA071
Our Price: £1.43
Inc. VAT: £1.72
WatchGuard Panda Adaptive Defense SiemFeeder on Azure - 3 Year
Panda Adaptive Defense SiemFeeder on Azure - 3 Year - 1 to 99 users
#WGSFA083
Our Price: £16.43
Inc. VAT: £19.72
Panda Adaptive Defense SiemFeeder on Azure - 3 Year - 100 to 249 users
#WGSFA013
Our Price: £11.79
Inc. VAT: £14.15
Panda Adaptive Defense SiemFeeder on Azure - 3 Year - 250 to 500 users
#WGSFA023
Our Price: £9.64
Inc. VAT: £11.57
Panda Adaptive Defense SiemFeeder on Azure - 3 Year - 501 to 1000 users
#WGSFA033
Our Price: £8.57
Inc. VAT: £10.28
Panda Adaptive Defense SiemFeeder on Azure - 3 Year - 1001 to 3000 users
#WGSFA043
Our Price: £7.14
Inc. VAT: £8.57
Panda Adaptive Defense SiemFeeder on Azure - 3 Year - 3001 to 5000 users
#WGSFA053
Our Price: £6.07
Inc. VAT: £7.28
Panda Adaptive Defense SiemFeeder on Azure - 3 Year - 5001 to 10000 users
#WGSFA063
Our Price: £4.64
Inc. VAT: £5.57
Panda Adaptive Defense SiemFeeder on Azure - 3 Year - 10000+ users
#WGSFA073
Our Price: £3.57
Inc. VAT: £4.28
Click here to jump to more pricing!

Please Note: All prices displayed are Ex-VAT. 20% VAT is added during the checkout process.
Overview:
A NEW SOURCE OF INFORMATION: USER PROGRAMS
System Information and Event Management (SIEM) solutions have become a necessity to manage the security of both large and midsize IT infrastructures. Their capabilities to collect and correlate the status of IT systems allow organizations to turn massive volumes of data into useful information for decision making.
Integrate a new source of critical information into the security intelligence collected and correlated by your SIEM: all processes and programs run on your devices and are continuously monitored by Panda Adaptive Defense.
A NEW SECURITY STATUS
IT Departments require high levels of visibility and control to be able to anticipate the security problems caused by next-generation malware.
Panda Adaptive Defense helps administrators filter the huge volumes of data handled by SIEM systems and focus on what really matters:
What new programs are being run and are yet to be classified as goodware or malware?
How did those programs reach the network?
What suspicious activities are they performing on user devices (registry editing, hooks, driver installation, etc.)?
What legitimate software with known and exploitable vulnerabilities is being used?
What processes are accessing user documents and sending information out?
What is the network usage of each process run on the IT network?
SEAMLESS INTEGRATION AND OPERATION
Panda Adaptive Defense seamlessly integrates with existing corporate SIEM solutions without additional deployments on users' devices. Monitored events are sent securely using the LEEF/CEF formats compatible with most SIEM systems on the market either directly or indirectly via plugins. SIEM Feeder allows a native integration of the telemetry into a DEVO platform instance in no time, without requiring any integration project (SIEM Feeder to Devo).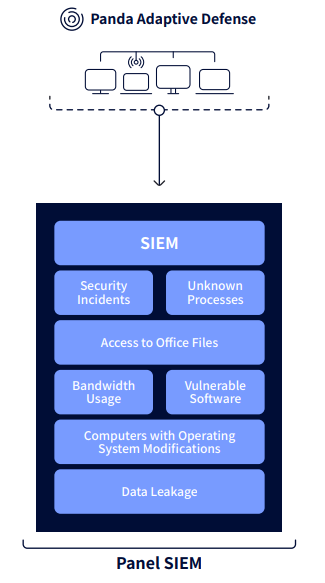 Pricing Notes:
All prices displayed are Ex-VAT. 20% VAT is added during the checkout process.
Pricing and product availability subject to change without notice.
WatchGuard Products
WatchGuard Panda Adaptive Defense SiemFeeder on Azure - 1 Year
Panda Adaptive Defense SiemFeeder on Azure - 1 Year - 1 to 99 users
#WGSFA081
Our Price: £6.79
Inc. VAT: £8.15
Panda Adaptive Defense SiemFeeder on Azure - 1 Year - 100 to 249 users
#WGSFA011
Our Price: £5.00
Inc. VAT: £6.00
Panda Adaptive Defense SiemFeeder on Azure - 1 Year - 250 to 500 users
#WGSFA021
Our Price: £3.93
Inc. VAT: £4.72
Panda Adaptive Defense SiemFeeder on Azure - 1 Year - 501 to 1000 users
#WGSFA031
Our Price: £3.57
Inc. VAT: £4.28
Panda Adaptive Defense SiemFeeder on Azure - 1 Year - 1001 to 3000 users
#WGSFA041
Our Price: £2.86
Inc. VAT: £3.43
Panda Adaptive Defense SiemFeeder on Azure - 1 Year - 3001 to 5000 users
#WGSFA051
Our Price: £2.50
Inc. VAT: £3.00
Panda Adaptive Defense SiemFeeder on Azure - 1 Year - 5001 to 10000 users
#WGSFA061
Our Price: £2.14
Inc. VAT: £2.57
Panda Adaptive Defense SiemFeeder on Azure - 1 Year - 10000+ users
#WGSFA071
Our Price: £1.43
Inc. VAT: £1.72
WatchGuard Panda Adaptive Defense SiemFeeder on Azure - 3 Year
Panda Adaptive Defense SiemFeeder on Azure - 3 Year - 1 to 99 users
#WGSFA083
Our Price: £16.43
Inc. VAT: £19.72
Panda Adaptive Defense SiemFeeder on Azure - 3 Year - 100 to 249 users
#WGSFA013
Our Price: £11.79
Inc. VAT: £14.15
Panda Adaptive Defense SiemFeeder on Azure - 3 Year - 250 to 500 users
#WGSFA023
Our Price: £9.64
Inc. VAT: £11.57
Panda Adaptive Defense SiemFeeder on Azure - 3 Year - 501 to 1000 users
#WGSFA033
Our Price: £8.57
Inc. VAT: £10.28
Panda Adaptive Defense SiemFeeder on Azure - 3 Year - 1001 to 3000 users
#WGSFA043
Our Price: £7.14
Inc. VAT: £8.57
Panda Adaptive Defense SiemFeeder on Azure - 3 Year - 3001 to 5000 users
#WGSFA053
Our Price: £6.07
Inc. VAT: £7.28
Panda Adaptive Defense SiemFeeder on Azure - 3 Year - 5001 to 10000 users
#WGSFA063
Our Price: £4.64
Inc. VAT: £5.57
Panda Adaptive Defense SiemFeeder on Azure - 3 Year - 10000+ users
#WGSFA073
Our Price: £3.57
Inc. VAT: £4.28