WatchGuard Reputation Enabled Defense

Stronger Web Security - Better Network Performance
What if you could have stronger security and faster web performance without having to add a whole new box? With WatchGuard Reputation Enabled Defense, you can. WatchGuard offers the only solution on the market with web reputation defense as a fully integrated security subscription for all WatchGuard appliances, protecting web users from malicious web pages, while dramatically reducing web processing overhead.
All Reputation Enabled Defense licenses can be found on their own individual product pages or purchase them below, more options can be found on individual product pages. Can't find the part you are looking for? Contact us today!
Key Features
Traffic to URLs with a bad reputation are immediately blocked

OffersMonitors all outbound traffic across all ports
AutomaticDelivers powerful, cloud-based web reputation service

Includes advanced Botnet Detection
Includes IP reputation feeds to detect botnet command and control nodes

Seamless integration with WatchGuard Dimension for complete visibility
---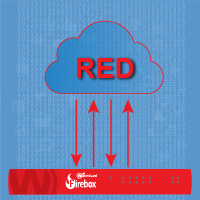 Next-Generation Web Reputation
WatchGuard Reputation Enabled Defense relies on a powerful, cloud-based web reputation service that aggregates data from multiple feeds, including industry-leading antivirus engines, for real-time protection from web threats. Traffic to URLs with a bad reputation are blocked immediately, freeing up your box to do more important tasks instead of constant AV scanning. Tests show a reduction of up to 50 percent in antivirus processing.
Advanced Botnet Detection
Networks of infected computers, known as a botnet, are used by cyber criminals to attack or infiltrate specific targets. Unsuspecting employees inadvertently join botnets after falling victim to a drive-by-download or cleverly crafted phishing email. With WatchGuard's Botnet Detection integration into Reputation Enabled Defense, organizations gain real-time visibility into infected clients and are empowered to quickly take action.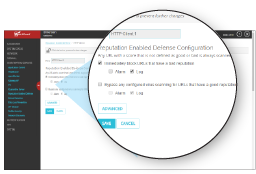 Flexible Management
IT administrators use one interface to manage this subscription along with all other WatchGuard Security Services. Reputation Enabled Defense can be managed with either the intuitive centralized console or the handy web UI for maximum flexibility. You can enable bypassing of know safe URLs for optimized performance, block known bad URLs for better security, and choose to enable automatic feedback with the WatchGuard threat intelligence system to constantly improve and update the service.
Complete Visibility
Using WatchGuard Dimension, quickly view the total number of scanned URLs and see how many were identified as a threat. You can also view the number of individual connections, the top blocked botnet sites, clients and destinations, and the protocols used.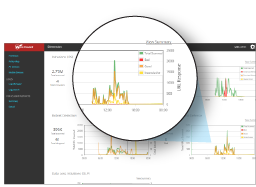 ---
How It Works
Reputation Enabled Defense reviews the destination of outbound connections and identifies its threat level based on intelligence feeds. Using the returned threat score, known threats are blocked and safe destinations are allowed with a bypass of Gateway AntiVirus to increase network performance.