WatchGuard Reporting and Visibility

Intelligent Reporting & Deep Visibility

Intelligent Reporting & Deep Visibility into a Wireless Network
Detailed monitoring and reporting throughout the wireless environment enables the security and focus that IT administrators need so that their valuable time and energy is put to the best use. With WatchGuard Cloud, our Wi-Fi products provide enhanced visibility across crucial information such as inventory control, end-user bandwidth consumption, and reporting on performance analytics of deployed Wi-Fi access points.
Access Point Health Data
Pinpoint the number of connected clients, device status, and the bandwidth consumed by the clients in a defined duration. Quickly troubleshoot and diagnose bandwidth issues across deployed access points to minimize downtime and maximize productivity.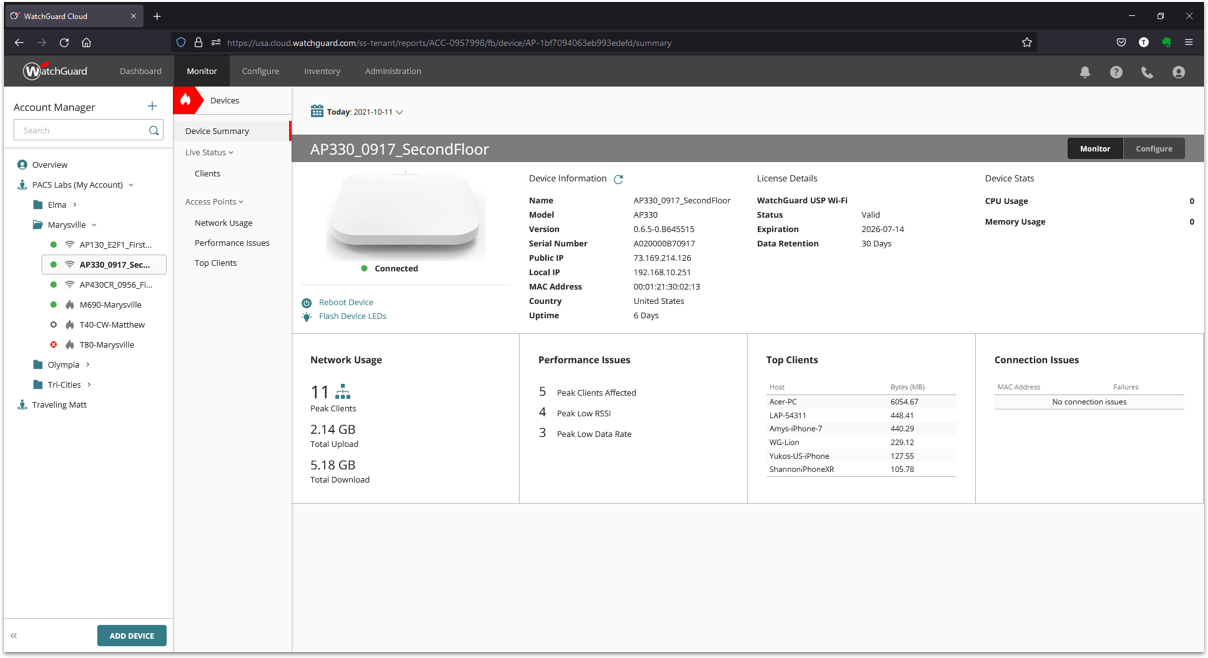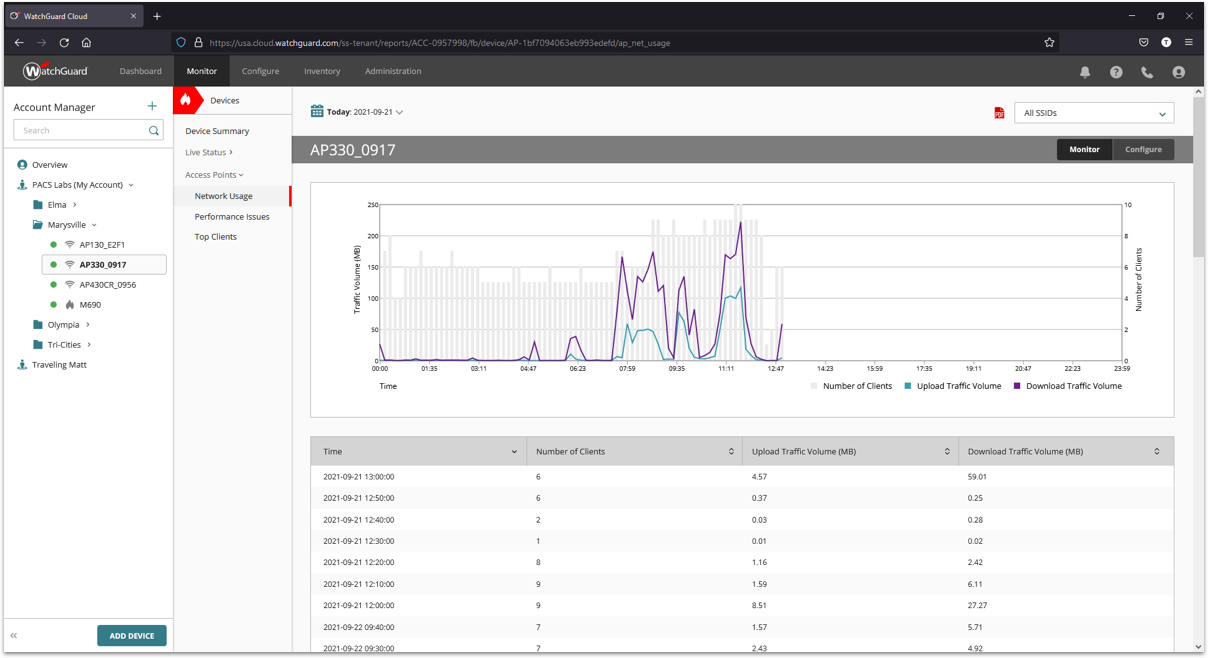 Network Consumption Reporting
Monitor network usage, top clients across devices, and connection issues efficiently to minimize network downtime. Explore channel and signal connection reporting to accurately pinpoint the details of low RSSI and low data rates that cause performance issues. Gain insights into the duration of time, the number of clients affected, and traffic upload or download volume to save on time spent manually reporting.
Client Detail Reports
Instantly access data across live client lists, connection issues, and top clients based on usage through the access point. Pinpoint data rates, traffic volume, and connection events for different access points, radios, channels, and status with timestamps associated with each event. Immediately see failed SSIDs, the MAC addresses associated, IP addresses, failure reasons, time, and issues across different access points deployed within a wireless network without manually logging this data.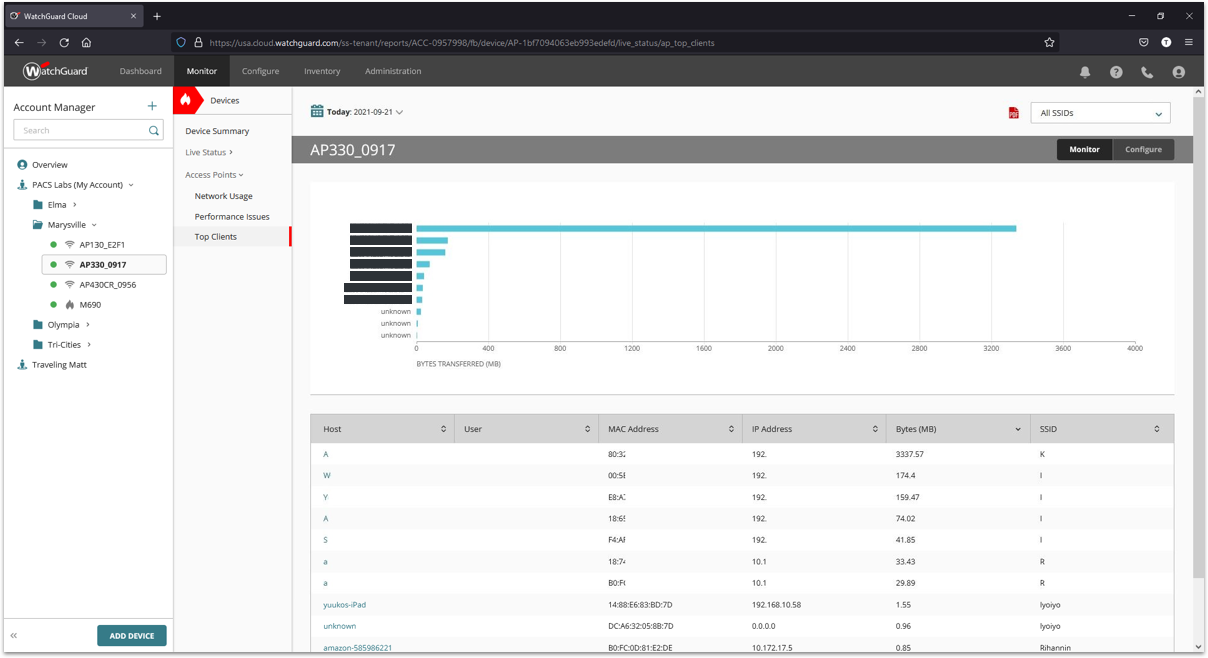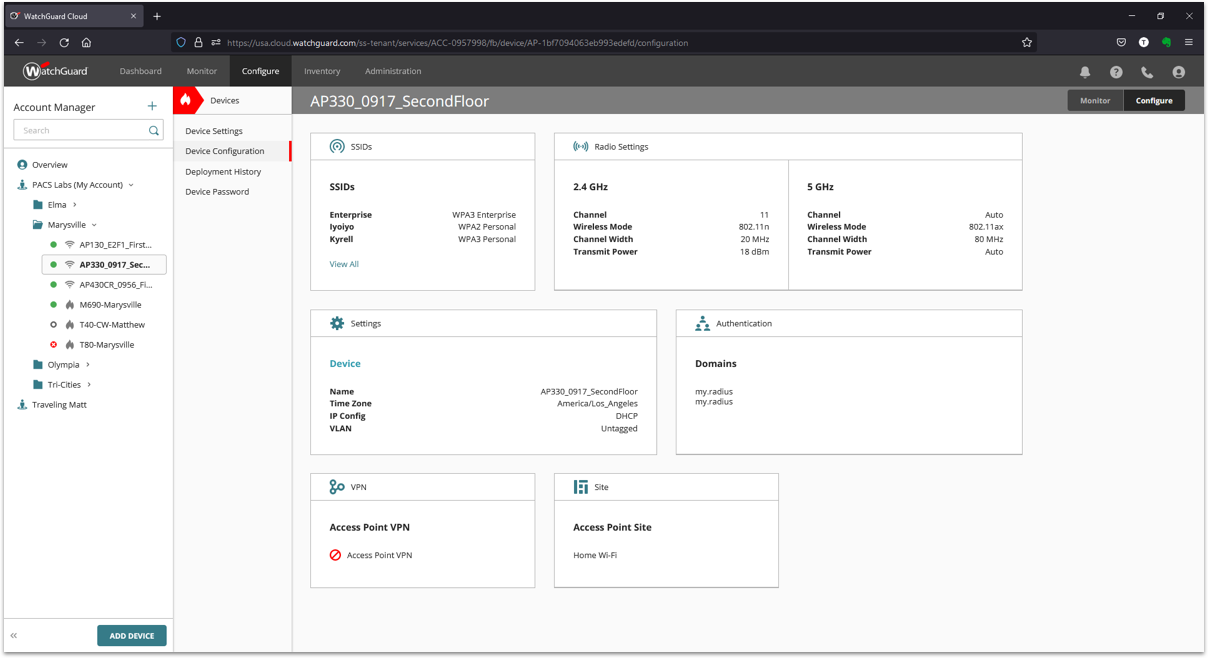 View by Location, Floor, and Customizable Groups
Investigate network performance by viewing the subscriber and tenant account, locations of deployed networks, all the way down to the individual access point. Admins can create unlimited nested folders to represent buildings, floors, departments, or other meaningful groups. Organize the data by selecting a parent or a child folder to view the chosen group's analytics, as desired.
Data the Way You Want It
SYSLOG enables customers to export the data surrounding Wi-Fi in WatchGuard Cloud. Powered by data exported from WatchGuard Cloud, external servers can utilize the data in the format you need while using the data you trust.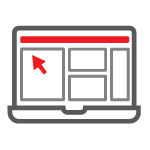 ---
Need help? Chat with an industry expert right now!
Please fill out the form below or call us at 020 3958 0663.