WatchGuard How to Buy

How to buy Watchguard products in 3 easy steps
Simplicity is our mission at WatchGuard and that mission extends beyond how the product is built to how it is packaged. Building the right WatchGuard offering for your business needs is as simple as answering three questions:
How and where do you want to deploy your WatchGuard network security solution?
What security services are important to your implementation?
Do you have a requirement for Secure Wi-Fi at one or more of your sites?
Follow the steps below to build the right package for your business. Questions? No problem - contact us, we are more than happy to assist you!
Step 1 - Choose Your Deployment Strategy
Physical Network Appliance - Find the tabletop or rack-mount Firebox appliance that is right for your environment.
Virtual Network Appliance - Whether you wish to install our network security image on your own server hardware or with your preferred virtual environment provider, WatchGuard's XTMv is the solution for you.
Step 2 - Choose Your Security Services
A stateful packet firewall, while essential, simply isn't enough anymore. The reality is that every network needs a full arsenal of scanning engines to protect against spyware and viruses, malicious apps and data leakage - all the way through ransomware, botnets, advanced persistent threats, and zero day malware. WatchGuard offers the most complete suite of unified security controls on the market today to ensure uninterrupted business operations.
While all of our services are offered a la carte, we have worked to develop two packages that simplify the decision-making process. Please note that the Total and Basic Security Suite bundles are only available on our Firebox T and M series appliances. Similar bundles can be created as a custom package by our Partners for XTM and XTMv customers, however, we are always running promotions to encourage our customers to trade-up to the latest hardware to enjoy the fastest performance and strongest security.
The Basic Security Suite includes all of the traditional network security services typical to a UTM appliance: IPS, GAV, URL filtering, application control, and reputation enabled defense. It also includes our centralized management and network visibility capabilities, as well as, our standard 24x7 support.
The Total Security Suite includes all services offered with the Basic Security Suite plus advanced malware protection, data loss protection, enhanced network visibility capabilities, endpoint and network threat correlation, and the ability to take action against threats right from Dimension, our network visibility platform. It also includes upgraded Gold level 24x7 support.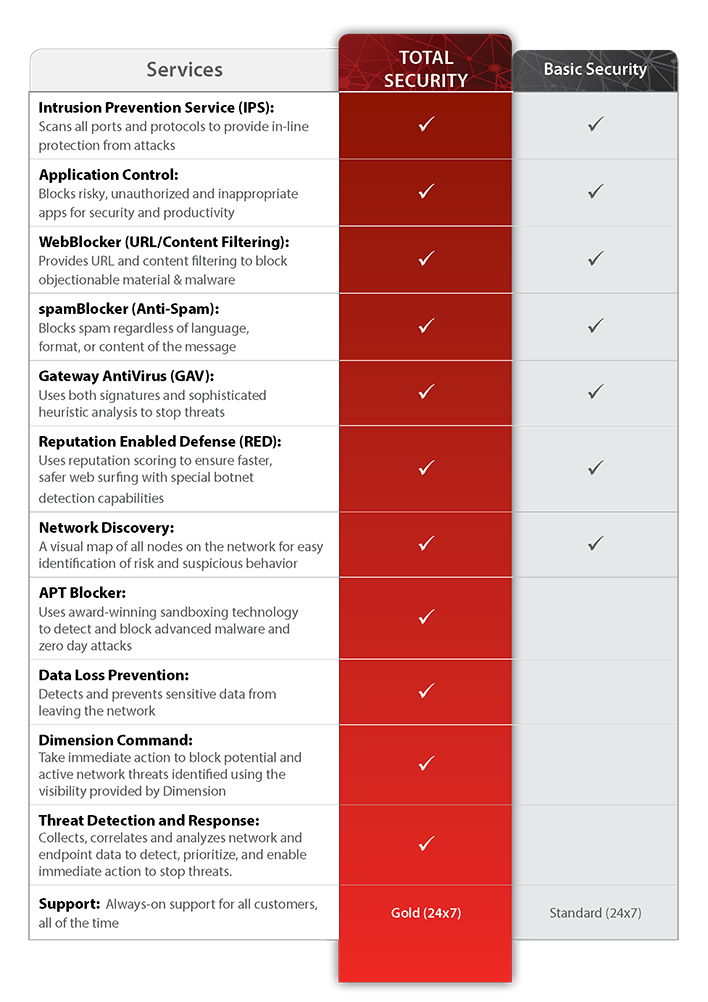 Step 3 - Add Secure Wi-Fi to Your Business
Wi-Fi is so commonplace that not offering it is becoming a detriment to many businesses around the globe. When it comes to offering Wi-Fi you need to make sure you are protecting yourself, your employees, your customers, and your sensitive business information. WatchGuard offers a variety of Secure Wi-Fi solutions, all of which provide the highest levels of security available on the market today. Whether you select the built-in Wi-Fi features of our tabletop network security appliances or choose to build a larger Wi-Fi network with our cloud-managed Access Points, WatchGuard has everything you need to deliver fast, safe, feature-rich Wi-Fi.
Built-in Wi-Fi - Ideal for small environments where the main use case will be for employees and business tasks, our T10, T30, and T50 tabletop network security appliances all come with Wi-Fi radios built in.
Cloud-Managed Wi-Fi - Ideal for larger environments, or locations where the use cases include guest W-Fi and Wi-Fi-based Point-of-Sale (POS) tasks, WatchGuard offers a broad range of stand-alone Access Points. All Access Points are centrally managed and integrate directly with our Firebox appliances to keep your Wi-Fi network safe.