WatchGuard Panda Fusion 360

Security, Management and Support from the Cloud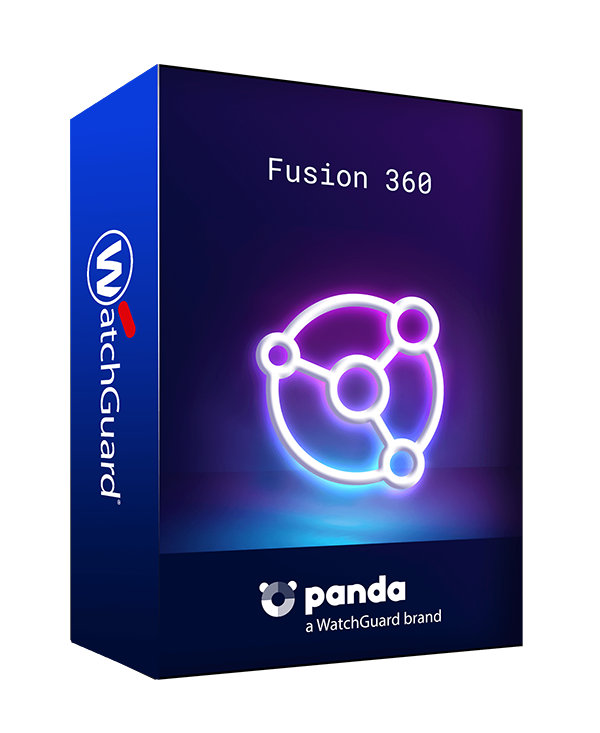 WatchGuard Products
WatchGuard Panda Fusion 360 - 1 Year
Panda Fusion 360 - 1 Year - 1 to 50 users
#WGFU3011
Our Price: £61.44
Inc. VAT: £73.73
Panda Fusion 360 - 1 Year - 51 to 100 users
#WGFU3021
Our Price: £54.29
Inc. VAT: £65.15
Panda Fusion 360 - 1 Year - 101 to 500 users
#WGFU3031
Our Price: £47.15
Inc. VAT: £56.58
Panda Fusion 360 - 1 Year - 501 to 1000 users
#WGFU3041
Our Price: £39.65
Inc. VAT: £47.58
Panda Fusion 360 - 1 Year - 1001 to 3000 users
#WGFU3051
Our Price: £33.22
Inc. VAT: £39.86
Panda Fusion 360 - 1 Year - 3001 to 5000 users
#WGFU3061
Our Price: £26.79
Inc. VAT: £32.15
Panda Fusion 360 - 1 Year - 5000 to 10000 users
#WGFU3071
Our Price: £21.08
Inc. VAT: £25.30
Panda Fusion 360 - 1 Year - 10000+ users
#WGFU3081
Our Price: £15.72
Inc. VAT: £18.86
WatchGuard Panda Fusion 360 - 3 Year
Panda Fusion 360 - 3 Year - 1 to 50 users
#WGFU3013
Our Price: £147.53
Inc. VAT: £177.04
Panda Fusion 360 - 3 Year - 51 to 100 users
#WGFU3023
Our Price: £130.38
Inc. VAT: £156.46
Panda Fusion 360 - 3 Year - 101 to 500 users
#WGFU3033
Our Price: £112.88
Inc. VAT: £135.46
Panda Fusion 360 - 3 Year - 501 to 1000 users
#WGFU3043
Our Price: £95.37
Inc. VAT: £114.44
Panda Fusion 360 - 3 Year - 1001 to 3000 users
#WGFU3053
Our Price: £80.01
Inc. VAT: £96.01
Panda Fusion 360 - 3 Year - 3001 to 5000 users
#WGFU3063
Our Price: £64.30
Inc. VAT: £77.16
Panda Fusion 360 - 3 Year - 5000 to 10000 users
#WGFU3073
Our Price: £50.37
Inc. VAT: £60.44
Panda Fusion 360 - 3 Year - 10000+ users
#WGFU3083
Our Price: £38.22
Inc. VAT: £45.86
Click here to jump to more pricing!

Please Note: All prices displayed are Ex-VAT. 20% VAT is added during the checkout process.
Overview:
SIMPLE, CENTRALIZED MANAGEMENT AND SECURITY FOR ALL YOUR DEVICES
Panda Fusion 360 is a holistic solution that provides automated advanced security, centralized IT management, and remote support for all workstations, laptops and servers on the corporate network, including mobile devices and tablets. As it is a Cloud solution, it is deployed rapidly without the need for maintenance or costly investments in IT infrastructure.
Panda Fusion 360 combines the best of two worlds. The advanced security provided by Panda Adaptive Defense 360 against all types of cyber threats, and the integrated management, monitoring and remote support capabilities delivered by Panda Systems Management.
Automated prevention, detection, containment and response against any present or future advanced threats, zero day malware, ransomware, phishing, memory exploits and malwareless attacks.
Cost savings thanks to centralized control and automation of infrastructure management tasks.
The best support experience with proactive troubleshooting and remote, unobtrusive access to devices inside and outside the corporate network.
PANDA SYSTEM MANAGEMENT
Mobility, processing and storage have revolutionized corporate environments, and organizations need tools that can help them improve efficiency and productivity. Panda Systems Management is a solution designed to manage, monitor and support all your organization's devices, whether they are in the office or on the road.
Benefits:
Traditional Preventive Technologies
Personal or managed firewall. IDS.
Device control.
Permanent, on-demand anti-malware across multiple vectors.
Managed blacklisting/whitelisting. Collective Intelligence.
Pre-execution heuristics.
Web filtering.
Anti-spam and anti-phishing.
Anti-tampering.
Email content filtering.
Remediation and rollback.
Prevention, Detection and Response Technologies
EDR: Continuous endpoint monitoring.
Unknown process execution prevention.
Zero-Trust Application Service: Cloud-based, machinelearning behavior analysis service that classifies all processes (APTs, ransomware, rootkits, etc).
Cloud-based sandboxing in real environments.
Behavior analysis and IoA detection.
Automatic detection and response to memory exploits.
Cloud-Based Centralized Management
Detection of unpatched devices. Automatic patching and patch management.
Remote, centralized software deployment. Monitoring of CPU, memory and disk space usage, services, software, etc.
Mobile Device Management (MDM): monitoring of the status of all mobile devices across the organization.
License management and control. Dashboard alerts.
Real-Time Monitoring and Inventories
Real-time visibility and control of all devices on the network, including smartphones and tablets.
Monitoring and control of CPU, memory and disk space usage, services, software, backup execution, etc.
Performance charts and on-demand detailed status reports with measurable results.
Software and hardware changelogs.
Remote, Automated Support
Remote connection to agent-based and agentless devices (Telnet/SSH, HTTP, etc).
Unobtrusive support: remote event logging, command prompt, task manager, file transfer, registry editor.
Ticketing system. Troubleshooting and internal communication. Free access to the ComStore.
Quick jobs, ability to download and customize scripts for automated troubleshooting.
CLOUD MANAGEMENT PLATFORM
The Aether Cloud platform and its console optimize management of the advanced adaptive security provided by Panda Adaptive Defense 360 for all endpoints and servers inside and outside the corporate network. The solution is designed to minimize complexity while maximizing flexibility, granularity and scalability.
Generates Greater Value In Less Time. Quick and Easy Implementation
Deployment, installation and configuration of the solution in minutes. See the value from day one.
Single, lightweight agent for all products and platforms (Windows, Mac, Linux, and Android).
Automatic discovery of unprotected endpoints. Remote installation.
Proprietary proxy and repository/cache technologies. Optimized communication even with endpoints with no Internet connection.
Simplifies Operations. Adapts To Your Organization
Intuitive web console.
Flexible, modular management that reduces the total cost of ownership.
Configure users with total or limited visibility and permissions. User activity audit.
Group and endpoint-based security policies. Predefined and custom roles.
Hardware and software inventories and changelogs.
Easy Scaling of Security and Management Capabilities Over Time
No need for new infrastructure to deploy modules. No deploy-ment costs.
Real-time communication with endpoints from a single web management console.
Dashboards and indicators for each module.
Pricing Notes:
All prices displayed are Ex-VAT. 20% VAT is added during the checkout process.
Pricing and product availability subject to change without notice.
WatchGuard Products
WatchGuard Panda Fusion 360 - 1 Year
Panda Fusion 360 - 1 Year - 1 to 50 users
#WGFU3011
Our Price: £61.44
Inc. VAT: £73.73
Panda Fusion 360 - 1 Year - 51 to 100 users
#WGFU3021
Our Price: £54.29
Inc. VAT: £65.15
Panda Fusion 360 - 1 Year - 101 to 500 users
#WGFU3031
Our Price: £47.15
Inc. VAT: £56.58
Panda Fusion 360 - 1 Year - 501 to 1000 users
#WGFU3041
Our Price: £39.65
Inc. VAT: £47.58
Panda Fusion 360 - 1 Year - 1001 to 3000 users
#WGFU3051
Our Price: £33.22
Inc. VAT: £39.86
Panda Fusion 360 - 1 Year - 3001 to 5000 users
#WGFU3061
Our Price: £26.79
Inc. VAT: £32.15
Panda Fusion 360 - 1 Year - 5000 to 10000 users
#WGFU3071
Our Price: £21.08
Inc. VAT: £25.30
Panda Fusion 360 - 1 Year - 10000+ users
#WGFU3081
Our Price: £15.72
Inc. VAT: £18.86
WatchGuard Panda Fusion 360 - 3 Year
Panda Fusion 360 - 3 Year - 1 to 50 users
#WGFU3013
Our Price: £147.53
Inc. VAT: £177.04
Panda Fusion 360 - 3 Year - 51 to 100 users
#WGFU3023
Our Price: £130.38
Inc. VAT: £156.46
Panda Fusion 360 - 3 Year - 101 to 500 users
#WGFU3033
Our Price: £112.88
Inc. VAT: £135.46
Panda Fusion 360 - 3 Year - 501 to 1000 users
#WGFU3043
Our Price: £95.37
Inc. VAT: £114.44
Panda Fusion 360 - 3 Year - 1001 to 3000 users
#WGFU3053
Our Price: £80.01
Inc. VAT: £96.01
Panda Fusion 360 - 3 Year - 3001 to 5000 users
#WGFU3063
Our Price: £64.30
Inc. VAT: £77.16
Panda Fusion 360 - 3 Year - 5000 to 10000 users
#WGFU3073
Our Price: £50.37
Inc. VAT: £60.44
Panda Fusion 360 - 3 Year - 10000+ users
#WGFU3083
Our Price: £38.22
Inc. VAT: £45.86