WatchGuard Firebox NV5

Includes SD-WAN and VPN capabilities - Up to 200 Mbps VPN throughput, 3 x 1 GbE ports, Up to 5 users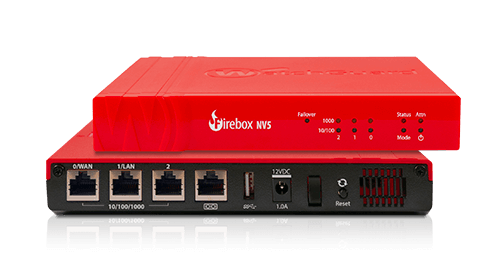 WatchGuard Products
WatchGuard Firebox NV5 with 5 Years Standard Support
WatchGuard Firebox NV5 with 5 Years Standard Support
#WGNV5005
Our Price: £466.33
Inc. VAT: £559.60
WatchGuard Standard Support Renewal 1 Year for Firebox NV5
WatchGuard Standard Support Renewal 1 Year for Firebox NV5
#WGNV5201
Our Price: £64.90
Inc. VAT: £77.88
More pricing below, click here!

Please Note: All prices displayed are Ex-VAT. 20% VAT is added during the checkout process.
Overview:
Edge Connectivity for Remote Applications
Not every device sits in a corporate office but all should have corporate-level protection. With enterprise-class SD-WAN capabilities, the NV5 is ideal for deployment in remote applications like kiosks, digital signs, ATMs, and office equipment.
Designed to support remote VPN connections back to a corporate virtual or physical Firebox, the NV5 can route traffic back to the corporate security appliance using WatchGuard Branch Office VPN (BOVPN) capabilities to provide the same level of protection as a device sitting at the corporate office.
Cloud Managed
Streamline network setup for the NV5 in WatchGuard Cloud. You can easily define network segments, keeping things like VoIP systems or IoT devices separate from your business-critical applications. Creating a VPN deployment is a breeze. With pre-configured policies you can get up and running quickly ‒ and securely. With Live Status, WatchGuard Cloud provides visibility into your network so that you can make timely, informed, and effective decisions about your network and security configurations.
With remote configuration available through WatchGuard Cloud, setup is very simple and the NV5 is easily deployed in our remote locations.

~ Markus Dommer, ACP IT Solutions GmbH
Zero-Touch Deployment
WatchGuard RapidDeploy makes it possible to eliminate much of the labor involved in setting up a Firebox to work for your network ‒ all without having to leave your office. RapidDeploy is a powerful, Cloud-based deployment and configuration tool that comes standard with the Firebox NV5. Local staff simply connect the device to power and the Internet, and the NV5 automatically downloads and applies the pre-determined configuration.
Single User Experience
The Firebox NV5 utilizes the same platform as other WatchGuard Firebox, Wi-Fi, authentication, and endpoint solutions. Whether scheduling firmware upgrades or monitoring access points, technicians have one user experience.
Network Adaptation with SD-WAN
Businesses require network solutions that adapt to changing conditions by optimizing network performance and costs. Dynamic path selection picks the most appropriate connection based on real-time monitoring of jitter, packet loss, and latency. Utilizing this technology, the Firebox NV5 makes it easy to reduce the use of expensive MPLS or 4G/LTE and improve network resiliency, while maintaining security.
---
FEATURES AND BENEFITS
Branch Office VPN (BOVPN) for fast site-to-site IKEv2 VPN connectivity
Traffic shaping with comprehensive QoS and bandwidth management capabilities
USB 4G and LTE modem support for primary link failover
Stateful firewall found on all Firebox appliances
Every appliance includes 24x7 support with advanced hardware replacement
Specifications: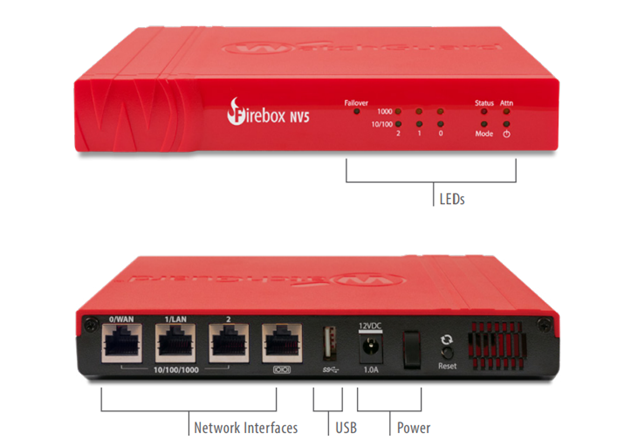 Firebox NV5
Specifications
THROUGHPUT
Firewall (IMIX)
150 Mbps
VPN (IMIX)
62 Mbps
Firewall (UDP 1518)
410 Mbps
VPN (UDP 1518)
200 Mbps
CAPACITY
Interfaces 10/100/1000
3
I/O interfaces
1 Serial/1 USB
Concurrent connections
73,000
New connections per second
8,500
VLANs
10
WSM licenses (incl)
0
VPN TUNNELS
Branch Office VPN
10
Mobile VPN
10
SECURITY FEATURES
Firewall
Stateful packet inspection, TLS decryption, proxy firewall
Application proxies
HTTP, HTTPS, FTP, DNS, TCP/UDP, POP3S, SMTPS, IMAPS and Explicit Proxy
Threat protection
DoS attacks, fragmented & malformed packets, blended threats
Filtering options
Browser Safe Search
VPN
Site to Site VPN
IKEv2, IPSec, Policy and Route Based Tunnels, TLS hub and spoke
Remote Access VPN
IKEv2, IPSec, L2TP, TLS
VISIBILITY
Reporting and Notifications
Live Status Network, VPN, and SD-WAN visibility
CERTIFICATIONS
Security
Pending: CC, FIPS 140-3
Safety
NRTL/C, CB
Network
IPv6 Ready Gold (routing)
Hazardous substance control
WEEE, RoHS, REACH
NETWORKING
SD-WAN
Multi-wan failover, dynamic path selection, jitter/loss/latency measurement, load sharing
Dynamic Routing
RIP, OSPF, BGP
High Availability
N/A
QoS
802.1Q, DSCP, IP Precedence
Traffic Management
By policy
IP address assignment
Static, DHCP (server, client, relay), PPPoE, DynDNS
NAT
Static, dynamic, 1:1, IPSec traversal, policy-based
PHYSICAL AND POWER SPECIFICATIONS
Product Dimensions
7.5" x 6.0" x 1.25" (190 x 152 x 32 mm)
Shipping Dimensions
12.1" x 10.2" x 7.2" (308 x 261 x 181 mm)
Product Weight
1.98 lbs (0.9 kg)
Shipping Weight
3.1 lbs (1.4 kg)
Power Consumption
12 Watts
Power
100-240 VAC Autosensing
MTBF
1,101,388 hours
ENVIRONMENT
OPERATING
STORAGE
Temperature
32° F to 104° F (0° C to 40° C)
-40° F to 158° F (-40° C to 70° C)
Relative Humidity
10% to 85% non-condensing
10% to 85% non-condensing
Altitude
0 to 9,843 ft at 95° F (3,000 m at 35° C)
0 to 15,000 ft at 95° F (4,570 m at 35° C)
SIMPLE SET-UP AND CONFIGURATION
Firebox management and network configuration in WatchGuard Cloud is simple to set up for multiple clients and different networks, without compromising on WatchGuard's reputation for providing enterprise-level security. And, whether you are deploying security at multiple locations or offering SD-WAN, you can skip sending network administrators for on-site configuration using WatchGuard RapidDeploy - standard with all Firebox appliances.
Pricing Notes:
All prices displayed are Ex-VAT. 20% VAT is added during the checkout process.
Pricing and product availability subject to change without notice.
WatchGuard Products
WatchGuard Firebox NV5 with 5 Years Standard Support
WatchGuard Firebox NV5 with 5 Years Standard Support
#WGNV5005
Our Price: £466.33
Inc. VAT: £559.60
WatchGuard Standard Support Renewal 1 Year for Firebox NV5
WatchGuard Standard Support Renewal 1 Year for Firebox NV5
#WGNV5201
Our Price: £64.90
Inc. VAT: £77.88