WatchGuard Dimension

Oceans of Data Instantly Become Security Intelligence
WatchGuard Dimension™ is a cloud-ready network security visibility solution that comes standard with WatchGuard's flagship Unified Threat Management and Next Generation Firewall platform. It provides a suite of big data visibility and reporting tools that instantly identify and distill key network security threats, issues, and trends, accelerating the ability to set meaningful security policies across the network.
WatchGuard Products
WatchGuard Dimension Command
WatchGuard Dimension Command 1 Year for Tabletop Appliance
WatchGuard Dimension Command 1 Year for Mid-Range Appliance
#WGMRA501
Our Price: £188.96
Inc. VAT: £226.75
WatchGuard Dimension Command 3 Years for Tabletop Appliance
#WGTTA503
Our Price: £168.42
Inc. VAT: £202.10
WatchGuard Dimension Command 3 Years for Mid-Range Appliance
#WGMRA503
Our Price: £406.68
Inc. VAT: £488.02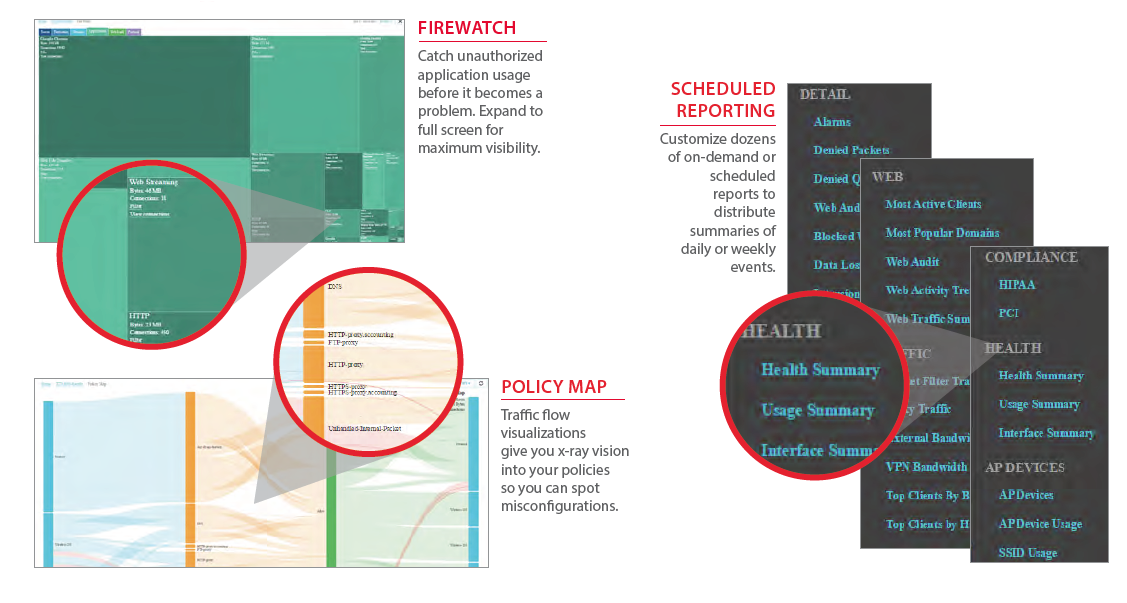 A picture is worth a thousand words - or traffic logs! Get a high-level, aggregated "big picture" view of network activity that pinpoints top threats and trends, active policies and traffic patterns, and correlated views of top users and applications.
From the boardroom to the branch office, the pace and complexity of decision-making about network security has been increasing.
How can you ensure that your decisions are timely, effective, and better informed? You need Visibility.
Dimension Command
Taking Instant Control of Your Network
Visibility is key in the fight against cyber crime. WatchGuard Dimension™ gives you eyes, while Dimension Command gives you teeth.
Dimension Command is the much-anticipated suite of management tools that work in tandem with the award-winning visibility tools in WatchGuard Dimension. With it, IT pros don't just see what's happening in the network, they can take immediate action directly from the dashboard.


Documentation:
Download the WatchGuard Dimension Datasheet (PDF).