WatchGuard AuthPoint

WatchGuard's multi-factor authentication solution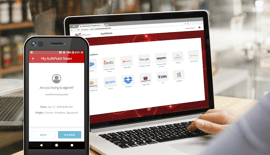 WatchGuard Products
WatchGuard AuthPoint - 1 Year (price per user)
WatchGuard AuthPoint - 1 Year - 1 to 50 Users
#WGATH30101
Our Price: £23.61
Inc. VAT: £28.33
WatchGuard AuthPoint - 1 Year - 51 to 100 Users
#WGATH30201
Our Price: £20.79
Inc. VAT: £24.95
WatchGuard AuthPoint - 1 Year - 101 to 250 Users
#WGATH30301
Our Price: £18.47
Inc. VAT: £22.16
WatchGuard AuthPoint - 1 Year - 251 to 500 Users
#WGATH30401
Our Price: £16.57
Inc. VAT: £19.88
WatchGuard AuthPoint - 1 Year - 501 to 1000 Users
#WGATH30501
Our Price: £14.17
Inc. VAT: £17.00
WatchGuard AuthPoint - 1 Year - 1001 to 5000 Users
#WGATH30601
Our Price: £12.34
Inc. VAT: £14.81
WatchGuard AuthPoint - 1 Year - 5001+ Users
#WGATH30701
Our Price: £10.69
Inc. VAT: £12.83
WatchGuard AuthPoint - 3 Year (price per user)
WatchGuard AuthPoint - 3 Year - 1 to 50 Users
#WGATH30103
Our Price: £56.66
Inc. VAT: £67.99
WatchGuard AuthPoint - 3 Year - 51 to 100 Users
#WGATH30203
Our Price: £49.95
Inc. VAT: £59.94
WatchGuard AuthPoint - 3 Year - 101 to 250 Users
#WGATH30303
Our Price: £44.40
Inc. VAT: £53.28
WatchGuard AuthPoint - 3 Year - 251 to 500 Users
#WGATH30403
Our Price: £39.76
Inc. VAT: £47.71
WatchGuard AuthPoint - 3 Year - 501 to 1000 Users
#WGATH30503
Our Price: £34.05
Inc. VAT: £40.86
WatchGuard AuthPoint - 3 Year - 1001 to 5000 Users
#WGATH30603
Our Price: £29.66
Inc. VAT: £35.59
WatchGuard AuthPoint - 3 Year - 5001+ Users
#WGATH30703
Our Price: £25.68
Inc. VAT: £30.82
More pricing below, click here!

Please Note: All prices displayed are Ex-VAT. 20% VAT is added during the checkout process.
Overview:
Passwords Are Insufficient
Every day, cyber criminals use stolen credentials to access and infect systems or steal data. What's most needed to reverse this trend is for authentication to require additional proof of identity beyond simple username and password, and to be widely deployed by all companies - no matter their size.
MFA Keeps Imposters Out
WatchGuard AuthPoint™ is the right solution at the right time to address this security gap with multi-factor authentication on an easy-to-use Cloud platform. With a simple push notification, the AuthPoint mobile app makes each login attempt visible, allowing the user to accept or block access right from their smartphone. WatchGuard's unique approach adds the "mobile phone DNA" as an identifying factor to further ensure that only the correct individual is granted access to sensitive networks and Cloud applications.
Intuitive, Cloud Management
MFA has been out of reach for some organizations due to the complex integrations and burdensome on-premises management, which makes it impossible to implement without a large IT staff and considerable up-front expense. By contrast, WatchGuard's AuthPoint solution is a Cloud service, so there's no expensive hardware to deploy, and it can be managed from anywhere using WatchGuard Cloud's intuitive interface. Additionally, our ecosystem offers dozens of integrations with 3rd party applications - ensuring that MFA protection is broadly applied for access to sensitive Cloud applications, web services, VPNs and networks. AuthPoint users can sign in once to access multiple applications, and they appreciate being able to add 3rd party authenticators, such as for Facebook or Google Authenticator, to the friendly mobile app.
Insecure password practices are exploited in 81% of cyber attacks worldwide,
and 61% of all attacks target businesses with less than 1,000 employees.
-Verizon's 2017 Data Breach Investigations Report
Features & Benefits
Online (push) and offline (QR code and OTP) authentication
Low TCO Cloud service
Mobile device DNA check for a strong identity match
Lightweight, full-featured mobile app in 11 languages
VPN, Cloud and PC login protection all included
Web Single Sign-On (SSO) portal
Easily protect VPN, Cloud apps and web services using the integration guides
Three ways to Authenticate with the App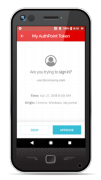 Push-Based Authentication - Secure authentication with one-touch approval. You see who's trying to authenticate, and where, and can block unauthorised access to your resources.
QR Code-Based Authentication - Use your camera to read a unique, encrypted QR code with a challenge that can only be read with the app. The response is typed in, to finalize the authentication.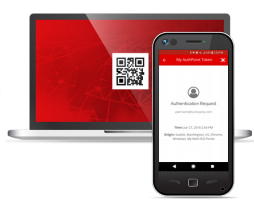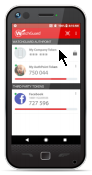 Time-Based One-Time Password (OTP) - Retrieve your dynamic, time-based, one-time password as displayed, and enter it during login.
WatchGuard Cloud
WatchGuard Cloud allows you to manage and report on your security from just one powerful platform. Whether you want to reduce or eliminate infrastructure costs, accelerate your set-up, deploy remote sites at any scale, simplify your security management tools, or gain greater visibility into your network, WatchGuard Cloud can help.
Simplify with Centralized Management and Visibility
No need to jump from tool to tool to manage your security or inventory. With WatchGuard Cloud, you can deploy Firebox appliances in minutes, allocate AuthPoint licenses, and monitor your network all from one, centralized location.
Ditch Your Infrastructure to Save Money and Time
The days of sizing, upgrading, and maintaining infrastructure are gone. With WatchGuard Cloud, there's no infrastructure to deploy or maintain. Lower your total cost of ownership (TCO) with flexible data retention options and with set-up that only takes a few minutes.
Secure Your Business in Minutes with RapidDeploy
RapidDeploy is a powerful, Cloud-based deployment and configuration tool that comes standard with WatchGuard Firebox appliances. It's fully built into WatchGuard Cloud, enabling you to get your Fireboxes up and running in minutes. Simply upload a configuration, then all new Fireboxes will call home and start securing your business. There is minimal user intervention required, and it can be done from anywhere, at any time. It's that easy.
Manage AuthPoint from the Cloud
Managing AuthPoint, WatchGuard's innovative multi-factor authentication solution, is simple, intuitive, and centralized through WatchGuard Cloud. The management user interface allows you to view AuthPoint reports and alerts, configure services, and manage tokens all from one location. Getting started is easy with automated token provisioning and de-provisioning, full synchronization with existing user repositories (e.g. Microsoft Active Directory and LDAP), and support for dozens of 3rd party integrations.
100+ Dashboards and Reports for Full Network Visibility
Understand what's happening in your network with WatchGuard Cloud Visibility. With 100+ dashboards and reports, you can quickly see high-level trends and anomalies, then drill down into detailed information on each for a deeper understanding. The information is actionable and insightful so that you can use it to make informed decisions that keep your network secure.
AuthPoint Mobile App
Simple, Effective Authentication at Your Fingertips
AuthPoint implements multi-factor authentication (MFA) using the AuthPoint app. Any external login attempt creates a secure push notification to the user's smartphone - showing who and from where someone is trying to authenticate. When this message is part of his/her own login process, they simply accept and quickly gain access to the authorised network resources and Cloud apps. When not, then the authorization attempt is rejected, causing criminals to be blocked from gaining access - even when they are using the correct credentials.
Convenient and Easy
No need to carry keyfobs or thumb drives; instead use the device that's always at hand…your smartphone. Download the AuthPoint app for free from Apple's AppStore or Google Play and activate in seconds, and then use it to authenticate from wherever you are.
The Power of Push
MFA using Push or QR code is a superior approach over one-time passwords (OTPs), which can be captured before the legitimate owner has the chance to use it. Also, approving or rejecting a push authentication message is quick and simple, without needing to recall and enter a numeric code.
Offline? No Problem!
In situations where the user has no data connection from the phone, such as when on an airplane, then they can use the same AuthPoint mobile app to authenticate. Just read the QR code presented on the computer screen, and only the user with the right AuthPoint app can read it and access protected resources.
Mobile Device DNA
Mobile device DNA provides an additional identifying factor to ensure that only authorised users can log in to systems and applications. Any attacker attempting to gain access using a cloned phone or app would be issued a non-functional one-time password. and so would not be allowed to continue.
Windows and MacOS Secure Login
Windows and macOS machines usually provide login with a simple username and password, which risks exposure of critical information if credentials are compromised. The Secure Login feature adds additional protection by having users authenticate through the AuthPoint app when logging on to their machines.
Multi-Token Support
WatchGuard's AuthPoint app allows users to store additional authenticators, allowing greater functionality and value from the single app and creating an incentive to comply with authentication practices.
Multi-Factor Authentication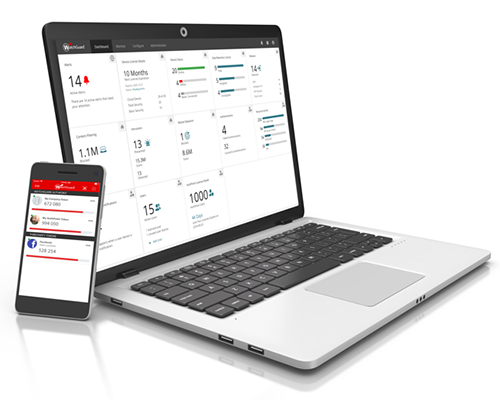 Secure. Easy. Powerful.
AuthPoint multi-factor authentication (MFA) provides the security you need to protect your assets, accounts, and information. Let your company work confidently and worry-free with the powerful protection of AuthPoint.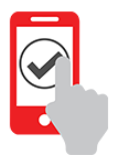 Authentication Service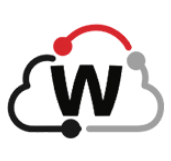 Cloud Management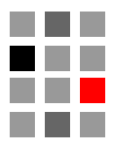 Mobile App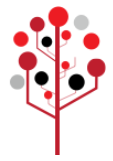 Ecosystem
Eliminate your company's #1 risk
Quickly and easily close security gaps that leave your company vulnerable to a breach.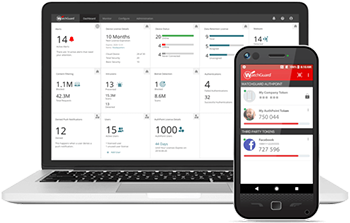 Easy-to-use authentication straight from your mobile phone
No need to carry tokens - authenticate using a simple mobile app on your phone.

Quick, simple deployment and Cloud-based management
Get up and running right away. Manage AuthPoint anywhere, anytime with through a user-friendly management platform.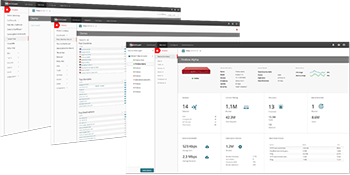 Authentication Service
Keep Criminals Outside Your Network with AuthPoint
Our unique multi-factor authentication (MFA) solution not only helps to reduce the likelihood of network disruptions and data breaches arising from lost or stolen credentials, but we deliver this important capability entirely from the Cloud for easy set-up and management. AuthPoint goes beyond traditional 2-factor authentication (2FA) by considering innovative ways to positively identify users, and our large ecosystem of 3rd party integrations means that you can use MFA to protect access to the network, VPNs, and Cloud applications. Even non-technical users find the AuthPoint mobile app easy and convenient to use!
Ultimately, WatchGuard AuthPoint is the right solution at the right time to make MFA a reality for the businesses who desperately need it to block attacks.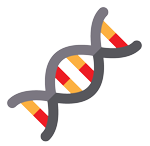 Effective MFA Protection with Mobile Device DNA
AuthPoint uses a push message, QR code, or one-time password (OTP) as an additional factor proving your identity; and our mobile device DNA matches the authorised user's phone when granting access to systems and applications. Therefore, any attacker who clones a user's device in an attempt to access a protected system would be blocked - since the device DNA would differ.
Easy-to-Use AuthPoint Mobile App
WatchGuard's AuthPoint app allows users to authenticate right from their own phone! No need to carry key fobs or thumb drives; instead install and activate the AuthPoint app in seconds, and then use it to authenticate from a smartphone. It enables speedy push-based authentication as well as offline authentication using QR codes with the phone's camera.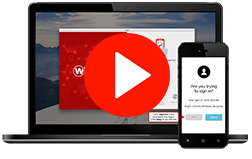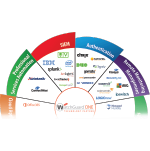 Strong Ecosystem
WatchGuard's ecosystem includes dozens of 3rd party integrations with AuthPoint - allowing companies to require users to authenticate before accessing sensitive Cloud applications, VPNs and networks. AuthPoint supports the SAML standard, permitting users to log in once to access a full range of applications and services.
Management on the WatchGuard Cloud Platform
Companies with limited IT staff and security expertise benefit from MFA protection that's easy to deploy and manage on the WatchGuard Cloud platform. You can access it from anywhere, and there is no need to install software, schedule upgrades or manage patches. Moreover, the platform easily accommodates a single global account view or many independent accounts.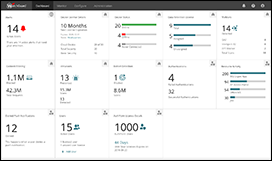 Specifications
AuthPoint Mobile App
AUTHENTICATION FUNCTIONS
Push-Based Authentication (online)
QR Code-Based Authentication (offline)
Time-Based One-Time Password (offline)
SECURITY FEATURES
Mobile Device DNA
Online Activation with Dynamic Key Generation
PIN, Fingerprint, and Face recognition (iPhone X) access to authenticator
Self-service, secure authenticator migration to another device
Jailbreak and Root Detection
CONVENIENCE FEATURES
Multi-Token support
3rd Party Social Media token support
Custom Token Name and Picture
SUPPORTED PLATFORMS
Android v4.4 or higher
iOS v9.0 or higher
SUPPORTED LANGUAGES
English, Spanish, Portuguese, German, Dutch, French, Italian, Japanese, Chinese (Simplified and Traditional), Korean, Thai
STANDARDS
OATH Time-Based One-Time Password Algorithm (TOTP) - RFC 6238
OATH Challenge-Response Algorithms (OCRA) - RFC 6287
OATH Dynamic Symmetric Key Provisioning Protocol (DSKPP) - RFC 6063
AuthPoint Service
SUPPORTED USE CASES
Cloud-Based Authentication with Web SSO
Remote Access and VPN Authentication
Windows Logon Protection (online/offline)
MacOS Logon Protection (online/offline)
Linux Logon Protection
MANAGEMENT FEATURES
WatchGuard Cloud Platform
Active Directory and LDAP User Sync and Authentication
Dashboard with Monitoring and Reporting Widgets
Access Policy per Group of Users
Configurable Authentication Resources
Easy Deployment with Integration Guides
Logs & Reports
AUTHPOINT GATEWAY
Secure outbound connection from network to WatchGuard Cloud
MS-AD and LDAP Synchronization
RADIUS Server
AUTHPOINT AGENTS
Windows Logon
MacOS Logon
ADFS
STANDARDS
RADIUS
SAML 2.0 IdP
INTEGRATIONS (CONSULT WATCHGUARD WEBSITE FOR COMPLETE LIST)
Microsoft Office 365, G-Suite, WatchGuard Firebox, Dropbox, Go-to-Meeting, Open VPN
Images
AuthPoint Mobile App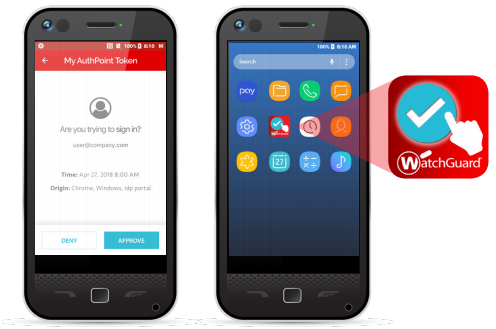 WatchGuard Cloud Management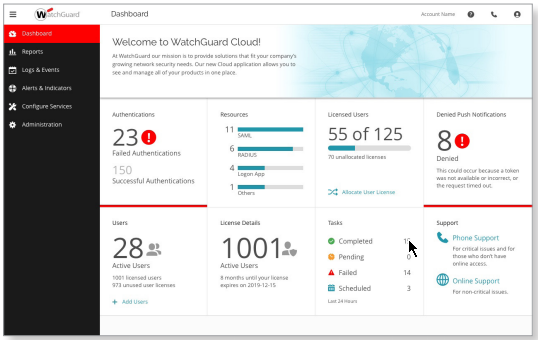 Integrations and SSO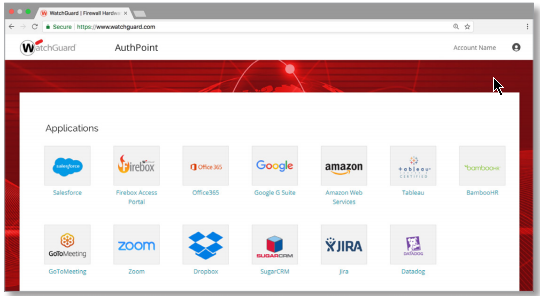 Pricing Notes:
All prices displayed are Ex-VAT. 20% VAT is added during the checkout process.
Pricing and product availability subject to change without notice.
WatchGuard Products
WatchGuard AuthPoint - 1 Year (price per user)
WatchGuard AuthPoint - 1 Year - 1 to 50 Users
#WGATH30101
Our Price: £23.61
Inc. VAT: £28.33
WatchGuard AuthPoint - 1 Year - 51 to 100 Users
#WGATH30201
Our Price: £20.79
Inc. VAT: £24.95
WatchGuard AuthPoint - 1 Year - 101 to 250 Users
#WGATH30301
Our Price: £18.47
Inc. VAT: £22.16
WatchGuard AuthPoint - 1 Year - 251 to 500 Users
#WGATH30401
Our Price: £16.57
Inc. VAT: £19.88
WatchGuard AuthPoint - 1 Year - 501 to 1000 Users
#WGATH30501
Our Price: £14.17
Inc. VAT: £17.00
WatchGuard AuthPoint - 1 Year - 1001 to 5000 Users
#WGATH30601
Our Price: £12.34
Inc. VAT: £14.81
WatchGuard AuthPoint - 1 Year - 5001+ Users
#WGATH30701
Our Price: £10.69
Inc. VAT: £12.83
WatchGuard AuthPoint - 3 Year (price per user)
WatchGuard AuthPoint - 3 Year - 1 to 50 Users
#WGATH30103
Our Price: £56.66
Inc. VAT: £67.99
WatchGuard AuthPoint - 3 Year - 51 to 100 Users
#WGATH30203
Our Price: £49.95
Inc. VAT: £59.94
WatchGuard AuthPoint - 3 Year - 101 to 250 Users
#WGATH30303
Our Price: £44.40
Inc. VAT: £53.28
WatchGuard AuthPoint - 3 Year - 251 to 500 Users
#WGATH30403
Our Price: £39.76
Inc. VAT: £47.71
WatchGuard AuthPoint - 3 Year - 501 to 1000 Users
#WGATH30503
Our Price: £34.05
Inc. VAT: £40.86
WatchGuard AuthPoint - 3 Year - 1001 to 5000 Users
#WGATH30603
Our Price: £29.66
Inc. VAT: £35.59
WatchGuard AuthPoint - 3 Year - 5001+ Users
#WGATH30703
Our Price: £25.68
Inc. VAT: £30.82