WatchGuard AuthPoint Hardware Token

Simple authentication that adapts to your business needs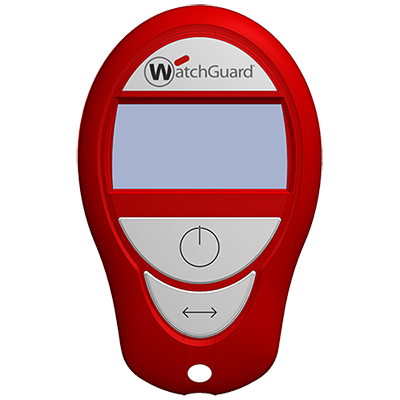 WatchGuard Products
AuthPoint Hardware Token
AuthPoint Hardware Token (10 units box)
#WG9011
Our Price: £160.81
Inc. VAT: £192.97
Overview:
AuthPoint's time-based, one-time password (OTP) hardware token is a sealed electronic device designed to generate secure OTPs every 30 seconds that businesses can use as an alternative to the mobile token to authenticate into protected resources.
MAXIMUM FLEXIBILITY AND SECURE ONE-TIME PASSWORD (OTP) AUTHENTICATION
WatchGuard hardware tokens are ready to use and can provide an additional source of protection for businesses when mobile device use is limited or restricted. Plus, token seeds are never exported or exposed! The entire authentication process is Cloud-based, which means sensitive data is not exposed.
COMMON USE CASES
Although mobile-based authentication is more popular and, in many cases, more secure, there are many scenarios where hardware tokens are required or preferred.
Accessing locations where authentication is required, but mobile use is restricted, like hospitals
Tough environments, like mines or oil platforms
Companies with policies that limit or restrict use of personal mobile device for security purposes
KEY FEATURES
Ready to use with a onestep activation process
3-year warranty, 7+ year life expectancy
Water resistant
Automatically provisioned through WatchGuard Cloud
Specifications
DEVICE SPECIFICATIONS
Product Dimensions
2.52" x 1.57" x 0.47" (64 x 40 x 12 mm)
Product Weight
0.04 lbs (18 g)
Lifetime
7+ years when used in full (CR2032 battery)
Seed Records
Never exported or exposted
Physical Security
Tamper-evident ultrasonic sealing of enclosure
Buttons
Two Buttons:
1 - for on/off
2 - change the OTP format (12 34 56 / 123456 / 123 456)
Password Generation
Electronic One-Time Password generation based on time
Password Algorithm
OATH Time-Based One-Time Password Algorithm (TOTP) - RFC 6238
Certifications
includes RoHS, FCC, CE, and KCC
Packaging
Ten units per box
ENVIRONMENT
Storage Temperature (OPERATING)
32° F to 113° F (0° C to 45° C)
Storage Temperature (STORAGE)
14° F to 122° F (-10° C to 50° C)
Relative Humidity
85% non-condensing
Pricing Notes:
All prices displayed are Ex-VAT. 20% VAT is added during the checkout process.
Pricing and product availability subject to change without notice.
WatchGuard Products
AuthPoint Hardware Token
AuthPoint Hardware Token (10 units box)
#WG9011
Our Price: £160.81
Inc. VAT: £192.97