WatchGuard Application Control

Granular Control of Applications
Organizations of all sizes rely on various applications for daily business operations, but how do you ensure only sanctioned applications are being used on your network? With WatchGuard Application Control, you have the power to limit application usage, and keep unproductive, inappropriate, and dangerous applications off your network
All Application Control licenses can be found on their own individual product pages or purchase them below, more options can be found on individual product pages. Can't find the part you are looking for? Contact us today!
Key Features
Take control over 1,800 of the most widely used applications, organized by category

Set throttle limits to ensure adequate bandwidth for business-critical applications at all times
Allow, block, or restrict applications, including specific sub-functions within applications

Automatically updates to include new applications and versions
ContinuouslyEasily and quickly enforce granular policies per user, group, and schedule

Seamlessly integrates with WatchGuard Dimension for complete visibility
---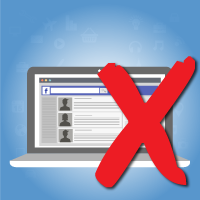 Minimize Risk and Maximize Productivity
It's never been easier to decide who, what, when, where, why and how applications are used on your network. WatchGuard Application Control tightens security across your extended network and adds productivity safeguards that go straight to your corporate bottom line. It enables IT administrators to easily monitor and control access to web and business applications, enforcing policies, increasing employee productivity, and protecting their networks from potential threats as a result of risky application usage. Administrators also have the ability to block sub-functions within applications, including file transfers, media and chat functions, and peer-to-peer connections.
Guarantee Bandwidth for Business-Critical Applications
Applications can use a lot of bandwidth, limiting the available bandwidth for important business applications. Ensure dedicated bandwidth is available at all times for business-critical applications by setting throttle limits. Administrators can set throttle limits to ensure these critical applications are always available for the entire organization or even a specific group of employees.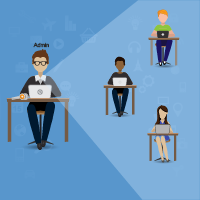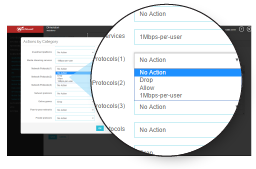 Enforce Granular Policies
Enforce policies on over 1,800 applications. Quickly and easily select to allow, block, or restrict access to applications based on a user's department, job function, and time of day using a centralized dashboard. WatchGuard Application Control gives administrators the granularity needed to meet their organization's needs by enforcing specific policies per user or group.
Complete Visibility into Application Usage
Get real-time and historical visibility into the applications being used on your network, including the top applications, categories, and user-specific data. You can also generate detailed reports for in-depth analysis across your entire network. Use this information to demonstrate compliance, evaluate employee needs, and refine acceptable use policies.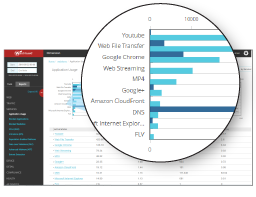 ---
How It Works
Application Control reviews traffic flowing through the Firebox and identifies traffic patterns that match a configurable application list. Application control then allows, denies, or throttles the connection based on policy configurations.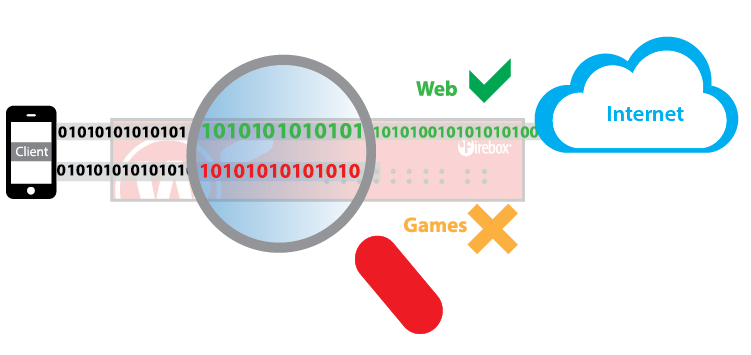 ---
Pricing Notes:
All prices displayed are Ex-VAT. 20% VAT is added during the checkout process.
Pricing and product availability subject to change without notice.