WatchGuard AP300 Access Point

Wireless Access Point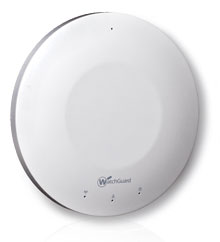 Sorry, this unit has been discontinued and is no longer available for purchase, replace by WatchGuard AP330. End of Sale (EOS): 31 Dec 2016. End of Life (EOL) for the WatchGuard AP300 is 31 Dec 2019 - you will not be able receive support after this date even with a 1 Year contract.

WatchGuard Access Point Overview:
As threats to wireless connectivity dramatically increase, the question isn't if you need strong wireless security for your business but how to ensure you have it. Meet the newest member of our family of Secure Wireless Access Points, the AP300.
Advanced technologies that address the latest critical Wi-Fi market demands include:
Support for 802.11ac
Fast roaming with 802.11 r/k for VoIP connections
3x3 MIMO with dual spatial streams capable of delivering up to 1.75 Gbps
Client limit, band steering, and fast handover
The Preferred Friendly WiFi Solution
WatchGuard was recently accredited by Friendly WiFi as a preferred provider of secure Wi-Fi solutions. With the best-in-class Unified Threat Management (UTM) features of WatchGuard Firebox appliances along with cutting-edge Access Points, WatchGuard offers powerful protection from a host of threats. WatchGuard's secure Wi-Fi solutions not only block inappropriate and illegal content, they also protect users from data theft, password cracking, malware, and many other harmful attacks. Whether you are already a WatchGuard customer or looking to become one, configuring your Firebox to meet Friendly WiFi requirements is fast and easy.
Join WatchGuard in supporting the Friendly WiFi initiative. Before accessing your next public hotspot, look for the colorful Friendly WiFi logo, and share this information with those who do not know about the importance of secure Wi-Fi.
Extend best-in-class UTM security to the WLAN
Protecting against today's sophisticated blended threats requires multiple security capabilities, and these threats don't discriminate between a wired or wireless network path to their targets. WatchGuard's wireless access points meet this challenge by extending best-in-class UTM security - including application control, intrusion prevention, URL and web content filtering, virus and spam blocking and more - from your WatchGuard firewall to the WLAN. With these appliances, businesses can harness the power of mobile devices and wireless networking - both indoors and outdoors - without putting network assets at risk.
Integrate wired and wireless security policies
WatchGuard's integrated wireless controller technology combined with WatchGuard's AP100, AP102, AP200, and AP300 wireless access points allows users to easily apply security policies to wired and WLAN resources simultaneously , which is critical to enforcing security standards across the entire network infrastructure. And updating integrated policies couldn't be simpler - creating huge IT time and cost savings.
Unified device management
Unified device management tools offer a "single pane of glass" view into network security activities and allow users to configure and manage their WatchGuard wireless access points and WatchGuard firewall from one place - reducing both setup time and maintenance costs.
Key Features:
Ease of management - With unified management tools, administrators can easily manage both their AP devices and firewall appliances from a single console
Strong security - Features like MAC filtering, client reporting, Captive Portal technology, 802.1X authentication, and PCI compliant scan and reporting ensure a strong WLAN security stance.
Great coverage, low profile - Powerful radios and custom internal antennas provide broad, reliable WLAN coverage. Sleek enclosure designs create subtle deployment profiles suitable for any space - both indoors and outdoors.
Best-in-class hardware - WatchGuard's fastest access points are built using the latest 802.11ac technology, capable of gigabit speeds. Other models feature 802.11n technology for operation in 2.4GHz and 5GHz frequency bands
Lower TCO - Integrated wireless controller technology helps realize big cost savings, with no separate controller hardware costs, no per-AP "seat" charges, and no controller software license fees.
Specifications:
Access Points
AP100
AP102
AP200
AP300
Hardware Details
Deployment
Indoor
Indoor/Outdoor (IP66 rated)
Indoor (Plenum)
Indoor (Plenum)
Number of Radios
1
1
2
2
Frequency of Radio 1
2.4GHz or 5GHz (selectable)
2.4GHz or 5GHz (selectable)
5 GHz
5 GHz
Frequency of Radio 2
-
-
2.4 GHz
2.4 GHz
Frequency Bands (GHz)*
2.400-2.474GHz, 5.150-5.250GHz, 5.250-5.350GHz, 5.470-5.725GHz, 5.725-5.850GHz
Number of Antennas
2 internal, omnidirectional
2 internal, horizontal (120˚)
4 internal, omnidirectional
6 internal, omnidirectional
Peak Antenna Gain
3 dBi
6 dBi
4 dBi
4.5 dBi (2.4GHz)
5 dBi (5GHz)
Tx/Rx Streams
2x2 MIMO with 2 spatial streams
3x3
Maximum TX Power*
20 dBm
20 dBm
21 dBm
20 dBm
Maximum Data Rate
300 Mbps
300 Mbps
600 Mbps
1.75 Gbps
SSID
8
8
16
16
Security Settings
WPA-PSK, WPA2-PSK, WPA-PSK/WPA2-PSK (Mixed), WPA-802.1X (Enterprise) WPA2-802.1X (Enterprise) WPA-802.1X/WPA2-802.1X (Mixed), TKIP, AES, TKIP/AES, Captive Portal, MAC whitelist/blacklist, VLAN Tagging
Ethernet
1 x 1 GBe
Power over Ethernet (PoE)
802.3af/at
A/C Adapter
Included
Optional
Included
Optional
PoE Injector
Optional
Optional
Optional
Optional
Physical Security
Kensington Lock
-
Kensington Lock
Kensington Lock
IEEE Standards Supported
802.11a/b/g/n, 802.1i, 802.1q, 802.1X, 802.3af/at, 802.11e
802.11a/b/g/n, 802.1i, 802.1q, 802.1X, 802.3af/ at, 802.11ac, 802.11e, 802.11k, 802.11r
Support & Maintenance
1-year or 3-year subscription to Standard Support for hardware warranty with advance hardware replacement, technical support, and software updates - included with purchase
Performance Features
802.11e WMM
802.11e WMM
802.11e WMM
802.11e WMM Band Steering Fast roaming (802.11r/k)
Environmental Information
Operating Temperature
32 to 104 F° (0 to 40° C)
-4 to 131 F° (-20 to 55° C)
32 to 104 F° (0 to 40° C)
32 to 104 F° (0 to 40° C)
Operating Relative Humidity
5% to 90% Non-condensing
Storage Temperature
-40 to 158° F (-40° to 70° C)
-40 to 158° F (-40° to 70° C)
-40 to 158° F (-40° to 70° C)
-4°F to 140°F (-20°C to 60°C )
Non-Operating Relative Humidity
5% to 90% Non-condensing
AC Power Adapter (Optional with AP300 and AP 102)
Input Voltage
100 - 240V AC
Frequency
50/60Hz
Input Current Maximum
400mA
Output Voltage
12V
Output Current
1250mA
PoE Injector (Optional with all Models)
IEEE Standard
802.3af
Input Voltage
100-240V AC
Output Voltage
56V
Output Power
15.4W
Dimensions
Product Dimensions
6.5"RD x 1.75H (16.5 x 4.4 cm)
6.3" x 6.3" x 1.75" (16.2 x 16.2 x 4.5 cm)
6.5"RD x 1.75H (16.5 x 4.4 cm)
6.29"RD, 1.49 H (16 x 3.8 cm)
Shipping Dimensions
7" x 7.25" x 4.5" (17.8 x 18.4 x 11.4 cm)
7.8" x 7.4" x 2" (19.8 x 18.8 x 5.2 cm)
7" x 7.25" x 4.5" (17.8 x 18.4 x 11.4 cm)
7" x 7.25" x 3.5" (17.8 x 18.4 x 8.25 cm)
Product Weight
.75 lbs (.34 kg)
.66 lbs (.30 kg)
.75 lbs (.34 kg)
75 lbs (.34 kg)
Shipping Weight (includes A/C adapter, mounting kit, etc.)
2 lbs (.91 kg)
1.4 lbs (.65 kg)
2 lbs (.91 kg)
1.34 lbs (.61 kg)
Mounting Options
Wall / Ceiling
Wall / Pole
Wall / Ceiling
Wall/Ceiling
Certifications
Wireless
FCC, IC, CE, MIC
Safety
NRTL/C, CB, CE
Weather Proof (AP 102 Only)
IP66
Control of Hazardous Substances
WEEE, RoHS
*Country-specific restrictions apply
Suggested Number of Access Points by XTM Model
Please note: WatchGuard XTM Firmware must be 11.7.2 or higher.
Models:
XTM 2 Series
XTM 3 Series
XTM 5 Series
XTM 8 Series
XTM 800 Series
XTM 1050
XTM 1500 Series
XTM 2050
XTM 2520
Number† of Access Points
Up to 5
Up to 15
Up to 35
Up to 70
Up to 100
Up to 100
Up to 100
Up to 100
Up to 100
**Not available on XTM 21, 22, 23 models
†Number of Access Points is not restricted by license
Product View: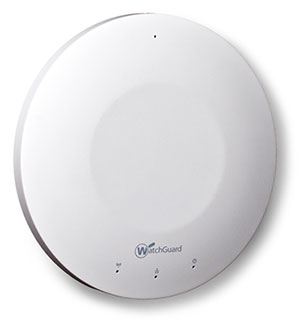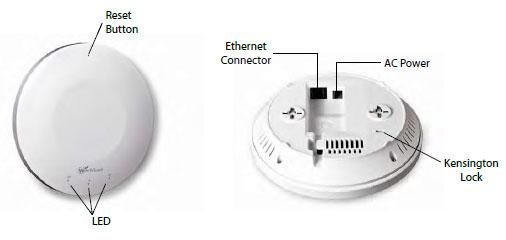 Pricing Notes:
All prices displayed are Ex-VAT. 20% VAT is added during the checkout process.
Pricing and product availability subject to change without notice.
Please note: Watchguard Wireless APs need to be managed by a Watchguard Firewall and will not operate as stand-alone access points.